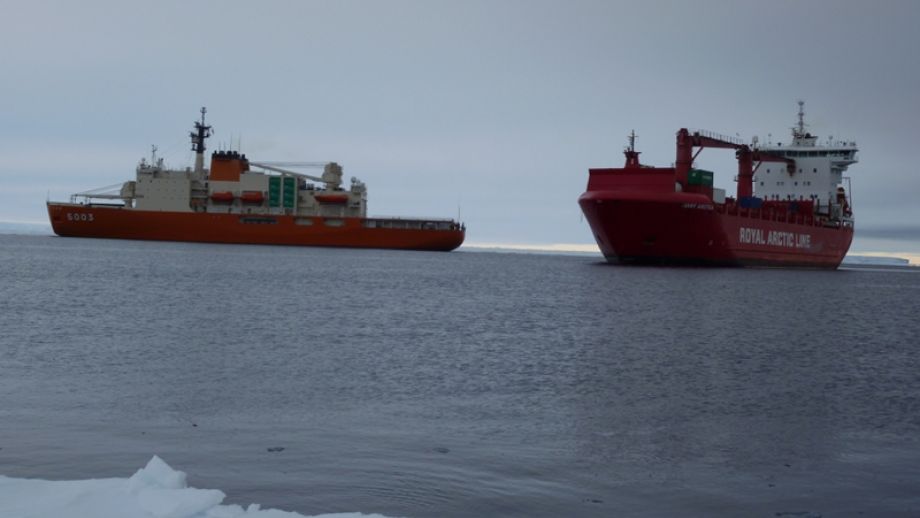 Arrival of the Mary Arctica at Crown Bay
After departing from Cape Town on December 16th, 2009 and spending nine days on the high seas, the Mary Arctica arrived at Crown Bay on December 25th around 12:30 am. The BELARE 2009-2010 team went down to Crown Bay to offload the ship and lend a hand to Japanese icebreaker, the Shirase, which had just arrived at Crown Bay from Australia as part of the Japanese Antarctic Research (JARE 51) expedition.
Once the ice thickness had been tested and the anchoring points secured, the offloading began at around 8:30 am and lasted the entire day. One of the men aboard the Mary Arctica offered to drive one of the Prinoths. The offloading of the 15 containers (totaling 90 tons) finished more quickly than expected and was completed without any loss or accident. The offloading was completed by 8:30 pm, a record given the challenging conditions such as a thick layer of slushy snow, which made access more difficult.

The waste containers were then loaded onto the Mary Arctica in to be disposed of elsewhere, in line with the specifications stipulated under the Antarctic Treaty System.

The team then helped the Japanese team offload the Shirase, Japan's new icebreaker on its maiden voyage to Antarctica. Steven Goderis, from the Vrije Universiteit Brussel (VUB), arrived on board the ship to take part in an expedition to search for meteorites with the Japanese team within the framework of this year's Belgo-Japanese scientific cooperation.

Offloading had finished on Christmas Day, with the Mary Arctica sailing off towards Atka Bay around 9:30 pm.
Picture: International Polar Foundation - © International Polar Foundation