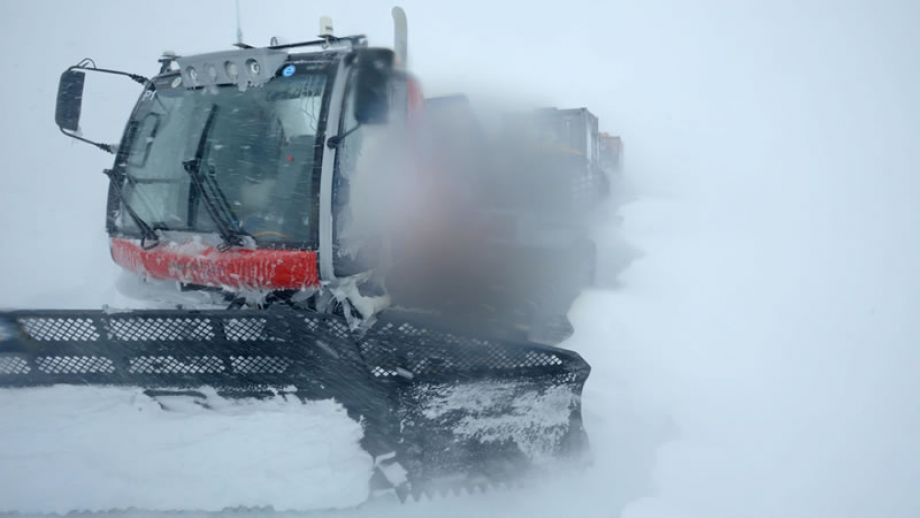 Bad Weather, Good Spirits
This year, the BELARE team's not lucky with the weather. They were hardly done with the 850 tons of accumulated snow, when a furious storm unleashed. While these storms usually last for only two days, the sky has mostly remained dark and gray during half of last week, and the snow has been piling up again in front of the garages!
A general order was issued for the entire team to keep to the tasks that would require nobody to go out. The Prinoth tractors were entirely serviced and the team members started the maintenance of the technical spaces. In terms of surface, these technical spaces are important to the station: they cover 1500m2 compared to the 500m2 of the station itself. These spaces hold:
the garages,
the mechanics workshop,
the carpentry,
the mechanic and electrical storage equipment,
the storage for dry food,
the freezer (a container),
the field equipment & security storage,
the emergency equipment in case of fire,
a fitness room,
toilets,
the general storage,
the snow melter units,
the building storage equipment,
a space to set the boots and jackets to dry
Having to stay inside has its advantages, though, as the team enjoyed fabulous dinners and shared some memorable foosball games with their Japanese friends. They also offered each team member a Japanese hand fan. We were even given courses on how to open it with just one finger. Despite the initial plans, the Japanese team did not set up its tents around the station, preferring the coziness of the rooms inside.
The team further managed to fill up the water storage tanks of two times 1500 liters. These need to be filled a first time to clean all the pipes before using the clean water and send it to the bioreactor tanks. This clean and used waters' cycle will be explained to a greater extend in an upcoming news item.
Despite the moody weather, life goes on as usual at the Princess Elisabeth Station. On November 23rd, the team even celebrated Erik's birthday (Erik Verhagen, station engineer), who is currently in his 4th Antarctic season. It was a delicious dinner and an exquisite chocolate cake.
Picture: Stormy Weather - © International Polar Foundation