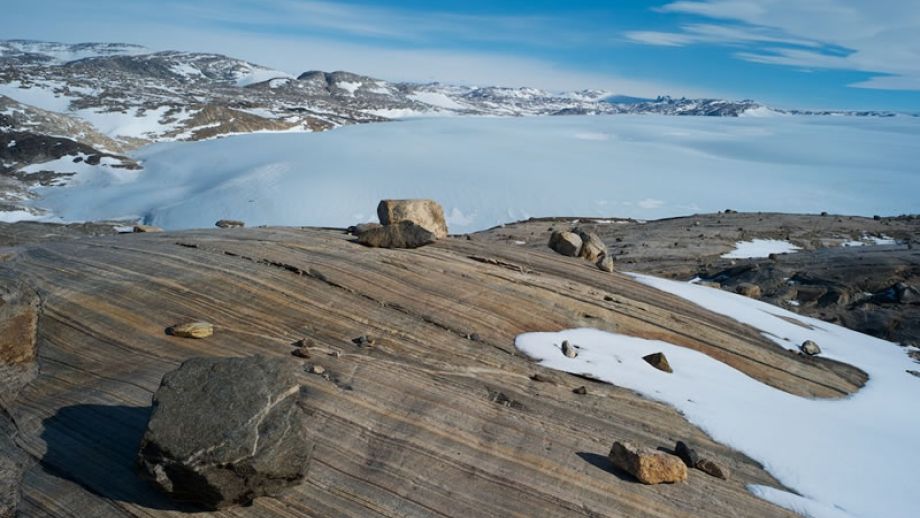 Base Camp for JARE 51
1st January 2010 - We don't really have the feeling that the New Year has started. We did not get to see the sun, since it remained hidden behind a thick blanket of drifting snow and clouds for most of the time.
Yet, this environment is very treacherous. It seems like my eyes have erased the landscape. I feel like I could be anywhere, and the resulting feeling makes me feel drowsy when every nerve should be tingling. Instead, I feel like curling up with a good book and a warm cat next to a fire.
However, there is no warm fire, no cat, or even books. Instead, we have only the purr of the Prinoth and its warm flank to nestle against as you refuel in a driving blizzard. On New Year's Day, we spend the day reconnoitering the path that JARE 51 had selected over the edge of the Byrdbreen. As luck would have it, we spent most of the day filling in crevasses to secure the route for the convoy. After this, we headed towards the Camp of the Geologists, which is also known as "point J14", where we set up our tents.
We exchanged rock lore and tectonic tales with the geologists who included a South African Geological Survey scientist, and a chap who originally hails from Karnatka. We had some interesting exchanges on the origin of the Sør Rondanes and the possible signs of early life in the form of stromatolite mats converted into local marble.
Meanwhile, the geologists have started to eyeing us as would-be competitors in the hunt for meteorites. Who will find the first one? There has been much discussion of fusion crusts and Widmerstatten structures. Steven Goderis generously offers me help to bring out my Widmerstatten structures, but I have to disappoint him. I found no meteorite.
Heading for the Balchen Fjella
2nd January 2010 - Morning comes, and Abe San heads off with Sasaki San to look for a route through the Labyrinth Moraine. While the skidoos can slide through smaller passages, the Prinoth needs a wider snow corridor to get through. The landscape is dotted with rocks of all shapes and sizes on either side. In the whiteout it is difficult to see far enough ahead to be able to plan a route. The feeling for the terrain then comes into play. After some vacillation, the route through the labyrinth is finally marked out. Alain and David Gladsteen are on skidoos. Alain goes ahead to check the path and leaves David to lead the convoy. The waypoints are marked out until point J37, where we will meet the others and decide whether or not to make an attempt to reach the Balchen Fjella Base Camp for the joint JARE ESRM Expedition, geologists and meteorite experts together.
Finally we have radio contact and the site for the Base Camp has been determined by JARE. We can now advance with all the vehicles up to a small plateau next to the Islakken, a shiny, glimmering lake of blue ice, ringed on its shores by moraines.
We set up camp again, and begin to prepare the return route using the Japanese Landsat-based maps and the GPS. There are a lot of inaccuracies between different versions of the maps, and a lot of work needs to be done before we have a reliable map to work from. We set route points and decide to open a new route, which Alain is proposing to the members of JARE. This has to be discussed by the NIPR (National Institute for Polar Research) in Tokyo before they accept using the new route. The accord is finally made and the route through unknown terrain begins to take shape.
A Liquid Lake in Antarctica
The next morning arrives clear and sunny. We cannot leave yet because Jesko has to repair the fourth Prinoth. There are problems with the hydraulics, so we have to limit its use. We split up provisions with Jesko.

In the afternoon, with a few hours to go Alain proposes that we do a reconnaissance of the pass between Balchen Fjella North and South. We (Alain and I, David and René, and Jesko on a borrowed JARE machine) cross the Islakken on our ski-doos, wrapped in our special scooter suits that the Norwegians had advised us to use. These suits transform the experience of ski-doo traverses. Yet, while extremely warm, they are not designed for the female anatomy, and require almost total disrobing before you can in any way relieve yourself.
We are soon on terrain that has never been crossed by humans. The Balchens are granite outcrops that have been eroded by glaciers. On every almost-level surface are small rocks and debris left behind by receding glaciers. Suddenly we are standing there, our jaws wide open in a most unbecoming way in front of an enormous plateau of ice jutting out on the other side of the valley.
The slope is steep and slippery; the ice pass proves treacherous. Our ski-doos are not equipped with spikes yet, as they just came off the ship. Alain heads off alone with the JARE machine, while we scrabble around, taking it all in. I find little dirt piles in crevices where the most delicate of stone crystals are growing out of the mineral-rich sediment and curse my lack of foresight having forgotten to take along sample boxes.
A little further along, we suddenly come upon another lake. It is discomfiting to see a totally liquid lake in Antarctica. The water is not cold and I decide to taste it. Almost immediately I spit it out onto the rocks. I wouldn't want to contaminate this pristine puddle. Sulphur? I cannot tell just like that, but decidedly not pleasant. There is a decidedly beginning-of-time feel to this place.
Alain resumes his search for the pass while I return to the others. René has shot off in another direction. Being an avid crystal hound, he has sniffed out a vein that contains some exceptional gypsum crystals. When Alain returns, we eagerly join in the hunt for the mother lode, but this proves impossible to locate. There is, however, a lot of sulphur on the rocks, colouring whole slabs yellow. There is something decidedly intriguing about this place. I resolve to find out what it is, but I need to find a geologist first.
Suddenly, there is the sound of engines, and before very long, we see Abe San with Sasaki San and Tsuchiya San coming down the slope. We chat a little about crystals as if running into each other here was the most ordinary thing to do. A hair-raising ride later we emerge back up on the plateau of ice, weaving between the moraines back to the Base Camp.
There are long stretches of time where nothing much seems to happen, and then all at once, within a week you can chase an orca and be the first person since the beginning of time not only to see but also taste a primeval lake hidden in a valley in a scarcely-frequented part of the Eastern Sør Rondane Mountains.
We have been very lucky in the location we picked.
We are getting dangerously low on Reblochon. It is time to head home.
Nighat Amin
Picture: International Polar Foundation - © International Polar Foundation