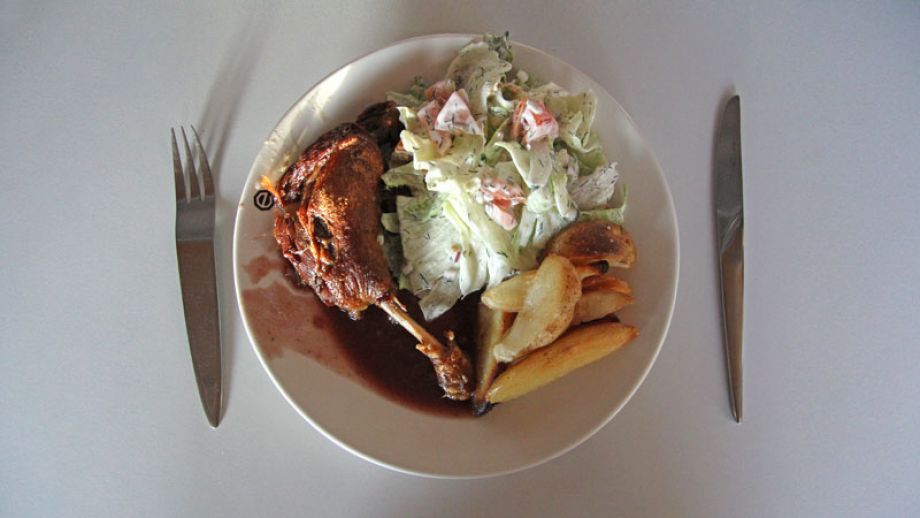 Cooking in Antarctica with David Rigotti
A skilled cook who has spent four seasons at PEA, David Rigotti spends two and a half months in Antarctica every year cooking for the BELARE team.
What does a cook do on a daily basis?
In the morning, I really don't do much. I lay out bread (which I usually make the night before), cereal, milk, coffee, tea, yoghurt, and fruit (although towards the end of the season we tend to run low on fresh fruit). We have everything you could imagine for a typical continental breakfast.
The real work begins a bit later in the day when I prepare lunch. I try to give everyone a choice of six or seven different cold vegetables, like red cabbage, white cabbage, grated carrots, tomatoes, beets, green beans, olives, and so on. I serve cold cuts like ham and sausage as well as different kinds of cheese.
We ship a number of products from Belgium to give people a taste of home. We have Belgian abbey cheeses like Maredsous as well as French cheeses like brie and goat cheese.
I also offer two or three different kinds of soup every week. Sometimes if there are leftovers from dinner the night before I heat them up and offer them as well.
And for dinner?
I always prepare a warm, well-balanced meal in the evening. It can be a simple meal like sausage, mash and applesauce. Or we can have magret de canard (duck filet), or springbok (South African gazelle) with potatoes and vegetables. We also have excellent whitefish we get in South Africa called king clip, which I make in the oven. I've also made fish soup and paella with it as well. And, of course, three or four times during my tenure as cook each season, I make pasta with bolognaise sauce.
My goal is to change things up quite often and have a wide variety of dishes for the staff at PEA. Meal times are important. They're a time to have a relaxing break from a hard day's work and have a quality meal and chat with your colleagues.
PEA residents are well-fed it seems.
Frankly, everyone is always quite happy. No one is in danger of starving at PEA. We always have more than enough food.
The people to work outdoors at the station have a big appetite. But overall, people eat less than they did when I first came to work at PEA four years ago, when they were still doing a lot of construction work on the station. People were working outside a lot, so they ate a lot more.
What do you do with leftovers?
I always try to prepare more food than necessary for each meal I make, in case something unexpected happens. If there aren't a lot of leftovers from dinner, I serve them the next day at lunch. But if there are a lot of leftovers, I vacuum-seal them and put them in the freezer. So I can either re-heat them for dinner on a day when I'm very busy and can't spend time on making something completely new for dinner, or they stay in the freezer to be used at the beginning of the next season.
Do you need to prepare lunch for scientists who go out into the field?
Whenever they leave on a day trip, they usually prepare a sandwich for themselves after breakfast before heading out into the field. There's plenty of bread, cold cuts and cheese.
When we had an eight-person German team spending 12 days at the coast this season to do work with the Polar-6 aircraft, they had 12 days' worth of hot meals. In addition, I vacuum-packed some cold cuts for them. I do the same when a team leaves on a convoy to the coast for a few days.
Is it difficult to prepare such a large quantity of food for teams heading out into the field for extended periods of time?
If I know in advance how many people are going and for how many days, then it's no problem to manage. If I have one days' notice, then it can be a bit difficult.
How often are fresh food supplies delivered to PEA?
Normally we try to order fresh food from Cape Town each time a plane comes from Cape Town, which is every few weeks. When the boat arrives each year, we get a large shipment of fresh food. We get a lot of our fresh vegetables like tomatoes, cucumbers and roquette, and fresh herbs like parsley, basil or mint, from South Africa along with our fish and meat. It allows us to have a little bit of luxury at the station.
However when the Mary Arctica was delayed for a number of days, so was our supply of fresh food. So we had to go without fresh food for two to three weeks or so. But we were able to manage. We had enough frozen vegetables in the freezer plus dried vegetables like chick peas and lentils.
Is most of the food you prepare at the station is normally frozen, canned or dried?
For the most part. We have a room at the station we use as a pantry to store canned foods like crushed tomatoes, fruit preserves, or even chocolate. But the temperature in the pantry is usually -10°C, even -15°C, so canned foods freeze, which means I have to defrost something as simple as a can of peeled tomatoes the night before I plan to cook them.
Do you have a meal plan mapped out over the two and a half months you spent at the station?
I don't follow a pre-determined meal plan for the entire time I'm there. I plan meals based on what's going on at the time and what we have available at the time.
Does the PEA staff have any favourite dishes?
No, not really. Everyone has his or her favourite dish (Alain, for example, if particularly fond of a Tibetan lentil dish). What I try to do is have a large enough variety so that everyone has something he or she likes.
Do you prepare anything special for Christmas or birthdays?
Each time there's a holiday or birthday to celebrate we celebrate it properly. Just because we're out in the middle of nowhere at PEA doesn't mean we can't have nice food.
For birthdays, we always have a cake. I have to admit I'm not super gifted at making cakes, but I make do.
For Christmas this past season, we had two Christmas turkeys. Due to the delay in the arrival of the Mary Arctica, I didn't have everything I wanted to make the stuffing for them, but I improvised using some frozen foie gras mixed with pecans. We also had red wine, dried celeriac and instant mashed potatoes. So we had a nice Christmas Dinner after all.
To your knowledge, how does the cuisine at PEA compare to other stations in Antarctica?
I can't give an answer to that question based on personal experience. But based on the pilots and scientists who've been to a number of different stations, including Princess Elisabeth, PEA has the reputation of having the best cuisine in Antarctica. I'm not someone who likes to toot his own horn, but I'm proud whenever I hear something like that.
And how is the kitchen at PEA? Is it a challenge to prepare anything in particular?
The kitchen at PEA is very well equipped. It was more challenging before the station was completed and we were still cooking in a mess tent outside. We didn't have all the kitchen comforts like we do now. The kitchen has everything we need. The only challenge is feeding 20-30 people every day.
What do you normally do at the end of each season as things wind down?
This past season, things worked out pretty well. The fridge emptied out nicely towards the end of the season. For things like UHT milk and canned goods, we can always keep them for the start of the following season. They might freeze, but that's fine. Even if UHT milk disassociates when it freezes, it's still fine to drink if it hasn't been opened.
For perishable foods like fruits and vegetables that, if there are too many leftover I usually chop them up, vacuum pack them and put them in the freezer for the following season, so the cook that starts next season already has a number of different ingredients to work with when he arrives. You can even freeze yoghurt and it's still ok to eat the next season. Its consistency might change, but it doesn't lose a lot of its flavour. I try to do as much as possible to keep food from being wasted.
Do you bring back any leftover food at the end of each season?
No. It's very expensive to transport anything in and out of Antarctica. If you have extra kilos of food to bring out at the end of the season, then you have to pay extra money to transport it. It's much more economical to preserve what you can at the end of each season and re-use it at the beginning of the following season.
How do you calculate the amount of food you need each season?
We calculate the amount of food we need based on the number of people we expect to host during the season, the amount of food left from the previous season, and how much food we used the previous season. Like I said before, people aren't eating as much as they did when the station was being built because their caloric needs aren't as high as they were then.
Do you look forward to coming back each season?
Absolutely. It's a nice escape from daily life in Belgium. PEA is its own unique social environment. Everyone there feels like family.
Picture: A tasty meal - © International Polar Foundation