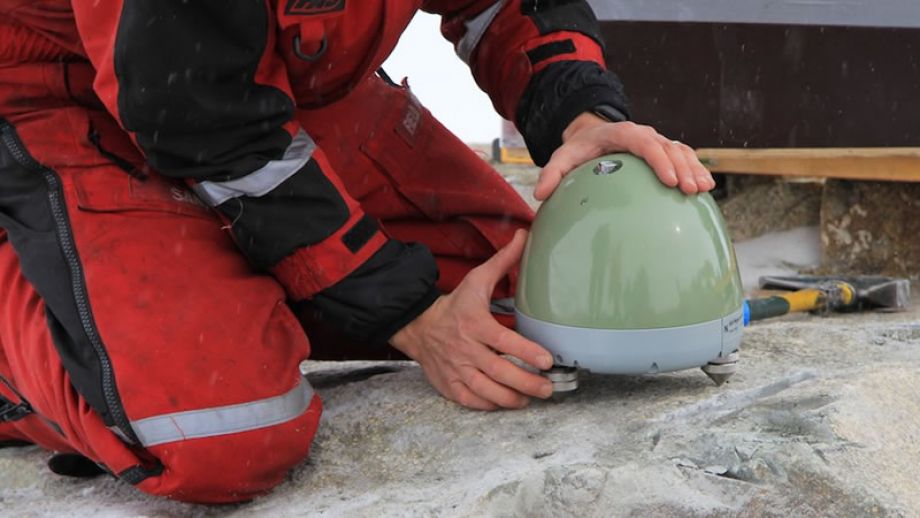 Installing and Testing a Seismometer
Three Belgian Scientists arrived with the last team rotation of the season. During the last few days, we have been working with one of the scientists involved in the GIANT-LISSA project, Denis Lombardi, to install and test a seismometer in the field.
Monitoring deformations of the Earth's Crust
Glaciers deform the Earth's crust as they gain or lose ice mass. By combining GPS data, gravimetry and seismology techniques, scientists can trace the horizontal and vertical deformation of the Earth's surface in the Polar Regions and understand the relation between ice mass variation and crust deformation.
These data contribute to a better understanding of the current mass balance of the East Antarctic Ice Sheet, and help scientists gain insight into the deep structure of the Antarctic continent as well as its local and regional seismologic history.
A Live Test for Next Year
Next year, scientists working on the GIANT-LISSA project are planning to install several seismometers in the field to monitor a specific zone where Antarctica was once attached to Africa, some 500 milion years ago. Data collected by these "in-field" seismometers will complement data provided by the permanent one located on Utsteinen Ridge, close to the station.
This year, we had to test our setup by installing one of them and checking that everything worked fine: the seismometer itself, the batteries and the solar panels it uses to recharge the batteries.
Finding the Right Spot
On a bleak day, we set out on a ski-doo reconnaissance mission of the Gunnerstadtbreen Glacier, located 15 to 35km away from Princess Elisabeth. Not a friendly place at all! That old glacier looks like a monster made of blue ice, squashing everything in its path as it makes its way down the mountain. It is also full of treacherously hidden crevasses. Finding an area of solid flat rock there is like finding the proverbial needle in the haystack!
After a day of reconnaissance, we finally found an appropriate location on the East side of the glacier. Four more hours to install the gear, and Denis can finally run a few tests.
Everything worked fine! Next year, we will all be back to install several seismometers, which means we will have to find not just one but several areas of solid flat rock in this chaotic environment ...
Picture: Denis Lombardi installing the seismometer - © International Polar Foundation