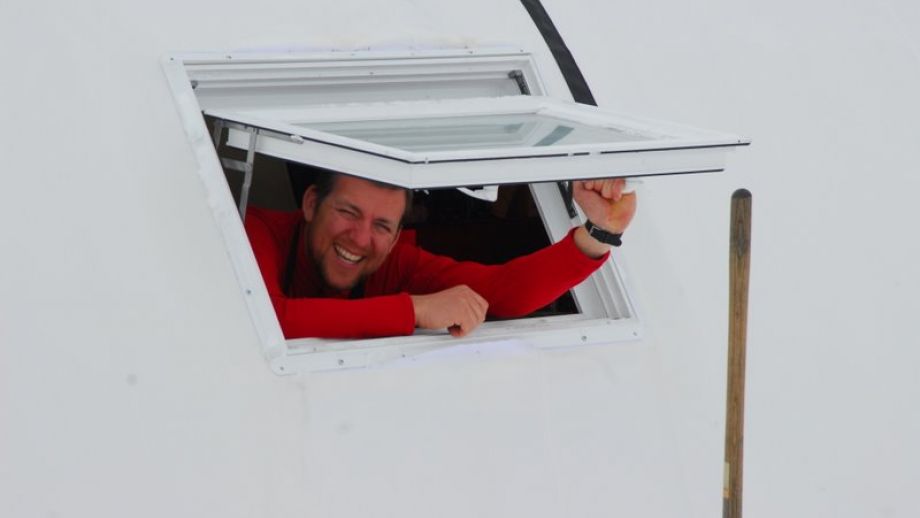 Interview: Gregory Janssens (chef)
After training at the Namur hotel school, Grégory Janssens began a career in advertising and marketing before returning to his first love: cooking. Aged 32, he is the father of two children and runs two restaurants in Brussels. As a friend of François Dujardin (who was the cook for the first part of the BELARE 2008-2009 expedition), Grégory joined the team in Antarctica in January. Working with David Rigotti (2nd cook on site during the second part of the expedition), he inaugurated the station's kitchen for the opening ceremony held on 15th February 2009.
What is a typical day for the kitchen crew?
Unlike François Dujardin (cook during the first part of the expedition), who worked alone to prepare meals for some thirty people, David and I worked as a team during the second part of the project so that we could cope with the influx of people at the base. We knew that François would prepare the bread every morning before going back to bed, but David and I decided to bake in the evenings so that we could get up a little later, around 7.30. We would discuss the program of the day as we ate our breakfast and decide what meals we were going to prepare that day as well as for the next. Once we had put the menu together, we'd drive the skidoo up to the base and collect the ingredients we needed for the day.
The midday meal always consisted of soup and a buffet. The afternoon was spent kneading the bread and doing the dishes. After that, we'd go back up to the station and continue unloading containers, put things away in the technical area and draw up an inventory of stocks. At around 5 o'clock, we'd go back down to the mess tent and start preparing the evening meal. If there was time, we'd also start preparing the meals for the upcoming days, clean up the tent and put things away. The evening dishes were done by volunteers in turn. All in all, we would spend an average of 4 hours a day preparing meals.
Is being a cook in the Antarctic anything like being a chef in a restaurant?
No, absolutely not. The choice of dishes in the Antarctic is based on the ingredients you have available - which is one of the major differences with the way a restaurant is organised. You have to compose your meal in advance and make sure you have everything available because thawing a steak there can take anywhere up to 24 hours!
As you are no doubt aware, there are no shops in Antarctica - so you also have to make everything yourself, including baking fresh bread every day. Another big difference is the way drinking water is produced: you have to go and find some snow, melt it in an enormous vat and then boil it before it can be drunk. It was a process we had to repeat all day long to ensure there was enough water for everyone. In terms of volume, I think we had to melt about 800 kg of snow a day.
What was the most restrictive factor associated to your work in Antarctica?
The lack of certainty associated with receiving fresh supplies by plane. New supplies came in on flights that brought in teams of scientists and site workers. However, we quickly learned we couldn't rely on that too much: first of all because bad weather meant it was impossible to be sure when the plane would actually land - but also because we rarely received what we had actually ordered. In addition, whenever the plane got stuck at Novo, the cargo would systematically be stored outside. This meant that supplies would arrive frozen solid and in such a state that it was hard to do anything with them.
I think that provisions reached us intact only once, when the guests flew in for the inauguration: we had fresh lettuce for the first time!
David and you "inaugurated" the kitchen at the base, so to speak. What did you cook to mark the occasion?
The first day we cooked at the station was the day before the inauguration. We waited for the meal in the mess tent to be finished and told Laborelec we were going to do some tests [laughs]. So we went up to the station and made crispy parmesan biscuits.
It was an emotional moment to cook inside the station for the first time - a feeling shared by the whole team when we called them in to sample the food!
How did you prepare for the inauguration of the base and manage meals for 100 people?
To begin with, we weren't sure whether we were going to do a cocktail or a buffet, but we soon realised that trying to organise a cocktail party would be a bit complicated because we didn't have any staff. So we opted for a "walking dinner", with a buffet and everyone standing. It was a lot of fun and there was a wonderful atmosphere!
The guests who came to the inauguration stayed at the station for 2 œ days. We worked on the meal preparations for a week: canapés as a starter (gingerbread mille-feuilles and foie gras, lobster ravioli, asparagus roulades, etc.), followed by a buffet featuring more substantial dishes (confit vegetables with mozzarella, tabbouleh, humus, aubergine caviar, etc.) and, to finish, a creamy chocolate dessert. The following evening, we served a potato, bacon and cheese tartiflette with salad, which gave us a second success to our credit! The guests were really surprised by the range of dishes we were able to present them with.
We have heard nothing but praise for your great cooking. Did you ever have anything go wrong?
Yes. David and I were going off on a trip to the coast. So we decided to prepare the meals in advance, notably a shepherd's pie made with fish. For a change, we decided to use tuna, but when the fish had defrosted and we started to crumble the flesh of the tuna, we discovered that there were a phenomenal number of bones in it. We managed to take out as many as we could, but clearly it wasn't enough: when we came back from our trip, our team-mates told us, "Honestly, that was a bit much... The food has been excellent throughout the expedition, but this was just inedible!" We were a bit embarrassed, of course, but it was all done in good spirit.
What is the most important ingredient in Antarctic cooking?
We didn't try to cook meals that were particularly "healthy". What we aimed at was to produce food that the members of the team working there would enjoy. So the secret of good Antarctic cooking is to strike a balance between the known and the new. This meant we would try and prepare something their mothers, spouses and even themselves could have done - while at the same time varying the dishes as much as possible and keeping a bit of the "discovery" aspect to food. Certainly if we had failed, it would have been bad for the morale. So we didn't hesitate to make sausages and mashed potatoes or a hearty carrot stoemp from time to time.
Next year, if I am lucky enough to go back - and I have already applied - I'd like to try and make vegetable shoots at the station (rocket, radishes, etc.) because they grow very easily and add extremely important nutrients to the diet.
Picture: Grégory Janssens from the Mess Tent - © International Polar Foundation