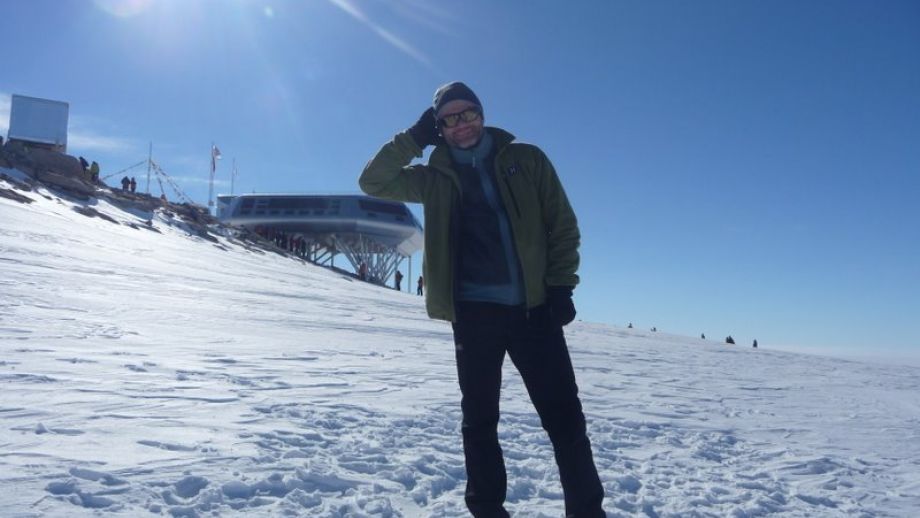 Interview: Jean Chalon (Schneider Electric)
Jean Chalon, born in 1961, has been a project engineer working on automated industrial systems at Schneider Electric since 1984. A rock-climbing, mountaineering and mountain hiking enthusiast, Jean has worked with some of the most important industrial sectors in Belgium and was involved in an assignment in Kuala Lumpur, Malaysia, before coming on board the Princess Elisabeth station project.
Schneider Electric was given the task of equipping the Princess Elisabeth station with a Programmable Logic Controller - a PLC. Can you explain to us in more detail what this device does?
The automation projects I work on are all about replacing control operations and commands that are done manually by a kind of programmable computer (an "industrial computer"), called "PLC". The PLC takes decisions based on a set of pre-programmed rules and acts like the brain of the automated system.
Viewing data (from various measurements, readings and checks), as well as how everything is controlled, can be done using a supervision software (SCADA) that serves as a human interface with the PLC.
How did you come to be involved in the Princess Elisabeth station project?
When Schneider Electric put itself forward as a sponsor for the station, the company also committed itself to providing the construction team with two people during the BELARE 2008-2009 expedition. I was particularly interested in the project for its environmental dimension. As I had already stated my preference for working on projects in a non-competitive setting, I was asked to join the project alongside Wim Van Belle.
Our collaboration with the International Polar Foundation (IPF) kicked off in Belgium in 2007 with a series of meetings and preliminary studies. Developing the PLC itself didn't begin until April 2008, when we started working with Laborelec (centre for technical skills and electrical research for the group GDF SUEZ). We completed the development phase in December 2008. For my part, commissioning the device on site took 5 to 6 weeks, from 20th January until the beginning of March 2009 (Jean Chalon left the station with the "Last Out" crew members).
What were your duties on site?
I was responsible for managing (automation and supervision) the technical systems at the station (air-conditioning, water treatment, energy management, solar heating and so on). All of this technology is run by a redundant programmable computer (Quantum) and controlled by a supervision software package (Vijeo Citect) that displays the parameters, energy readings and the status of the electrical system in the form of text or graphics.
In terms of work organisation, what was the aim of your assignment and what stages did you have to go through on site?
The aim was to come up with something visibly concrete in time for the station's inauguration: kitchen, lights, water, wind power (production and storage), ventilation, energy management and the control/command system.
Laborelec first had to install the hardware and feed the cables through from the units to the electrical cabinets before we could start the cabling process. We usually work, when dealing with an automation project, with a team in charge of the cabling components of the job. In this case, it was the development engineers who also had to do the cabling work. There were over 5000 wires to hook up! Fortunately, there was plenty of help on hand.
We then had about a month left before our assignment came to an end. The idea was to run several workings in parallel and to try to get as far as possible with regards to the various technologies involved. The schedule was too tight to be able to get everything up and running as an integrated system before the end of the mission. Although we managed to reach our objectives, there is still some work left to do.
So you'll be going back next year?
There will most certainly be a new team going out next year and, yes, I'd like to make the trip again just because I like to finish things I have started before moving on to something else. It's not entirely up to me, though – it's going to depend on other people as well. I'm keeping my fingers crossed...
What were some of the working restrictions and difficulties you encountered during your stay?
In addition to tight deadlines, we also had to cope with working in confined spaces. Access to the equipment was extremely cramped – so much so that you couldn't have more than 1 or 2 people working at the same time in the area set aside for the electronic cabling (the first room in the centre of the station).
On site, and depending on the situation, we also had to adjust the sequential operation on some of the equipment items. Actual situations are not always quite like that which were foreseen by the suppliers!
Did you have to face a situation you thought would be insurmountable?
Yes – making, or rather "cobbling together" fuses.
While tackling several technical aspects of the job at the same time, some people were hooking up cables while others were running tests and I was validating the sequences on the computer devices. We already had some 'operating' power supplies and we knew we had to be extremely careful.
Although we were prepared for the likelihood of an electronic card burning out (a wrong power supply, caused by incorrect cabling), we hadn't reckoned on the fuses… We had brought a lot of equipment with us, but not enough fuses, unfortunately. We only found this out when we had blown a few of them. And as there is no "local hardware store" to pop down to for a few things in Antarctica, we had to repair the fuses ourselves, using scraps of wire. My workmate Wim became a real dab hand at it.
What surprised you most in terms of the atmosphere on site?
From my point of view, the atmosphere was great – with everyone pulling together in terms of the objectives we wanted to achieve. For me, it was a comfort only having to worry about what I was there for and getting the system up and running. Because we were able to stay focused, the time just flew by. We had a heavy workload and there was always something that needed to be done. We were all working with the same objective at more than 100% and, for me, that kind of stress was beneficial.
On the other hand, it was surreal just how many different things were going on at the same time: I might have been working on the PC checking software developments while, above my head, there was an electrician feeding cables through, with another just alongside him cabling the electrical cabinet and, barely 2 metres away, a carpenter singing away for dear life as he cut his planks. I admit that it was amazing to have all of these different professions working together in a single place.
What will the assignment be for Schneider Electric next year?
Testing the cabling, running final tests on the equipment, fine-tuning the sequences on the computers, setting the levels for managing energy usage and checking whether everything is working properly – and automatically.
Picture: Jean Chalon beside the station - © International Polar Foundation