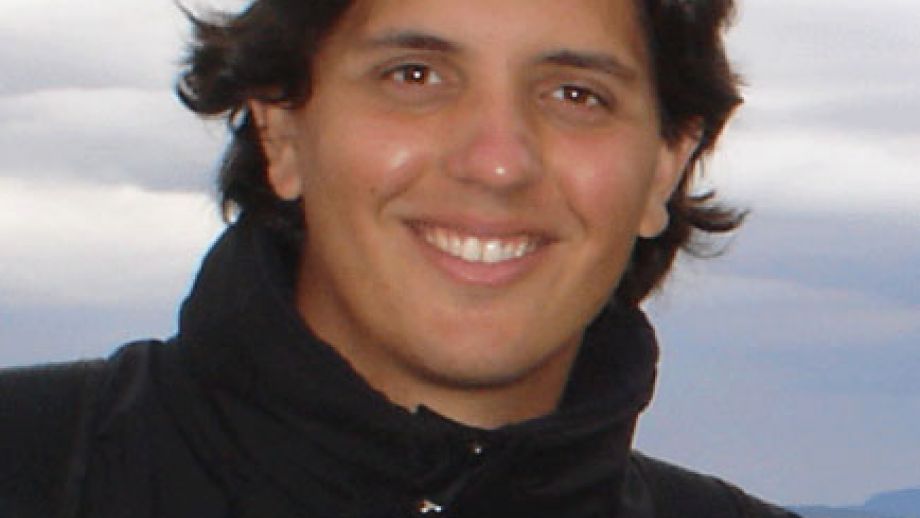 Interview with Thomas Petracca, IT Specialist
Thomas Petracca is a 28 year–old IT specialist who started working for the International Polar Foundation a year ago. After getting in touch with Alain Hubert by email, he was hired as a consultant for putting together the IT infrastructure (networking and cabling) for the PEA station. At the end of last season (2009-2010), he was asked to go to Utsteinen to install the station's IT network.
What exactly did you do at the station?
I installed the network and the servers. Every piece of equipment developed by Schneider, Laborelec the scientists, etc. had to be used and interconnected. They all have separate networking structures, and they have to be linked with one another on one main network.
They use a variety of servers to manage the station. Together with the people from SES Astra, we set up a backup line and a third option with Iridium. I took the Iridium connection on my account. The satellite is mainly the external part of the network, but I worked mainly on the internal part.
Have you ever worked on such 'different' kinds of projects before in distant places?
Yes. currently I work as a network analyst for Caterpillar, beside this I also work as freelance consultant and had the opportunity to work on some drilling platforms projects, It wasn't quite the same as the PEA Station, but there's one big similarity: the remoteness. That was something I'd already experienced before.
What was the biggest difference between working on a drilling platform and working in Antarctica?
The biggest difference is that when you go to Antarctica you have to make sure to bring everything with you. Maybe not everyone who went on the expedition had to worry about bringing everything, but I did. I was quite stressed before leaving. Some bits and pieces were missing. I didn't want to forget anything. One small missing cable could have made it impossible to make a simple connection… it sounds stupid but it's possible! At least there was a large stock of switches in the station. You have to go through everyting a hundred of times. That was the most stressful part of the job for me.
Regarding the environment, that was an experience of course, but I had to sit inside a lot.
I walked around on the windscoop like everyone else, I wandered outside for a bit, but I didn't go to all these different places like the scientists did. They went everywhere. Nevertheless, it was a unique experience and I'm very happy that I went there.
Apart from the stress at the beginning, what was your biggest challenge?
We couldn't plan and prepare much in advance while we were still in Belgium. The thing is, we could prepare to a certain extent, but we weren't able to test. You can't set up the network at some random testing spot because the satellites are in Antarctica and that's where it had to function. So this meant that we had no test phase whatsoever. This was very stressful and there was a great deal of uncertainty. Every part had to be assembled in a limited period of time there on the spot. And on top of that, I was on a very tight schedule as I couldn't stay for a very long time - only 17-18 days. Originally I should have been there for the entirety of the expedition, but I had to leave sooner than expected to work on another project. But I finished everything!
Did you work alone on the IT project or did you work in teams?
For my part of the job, I worked by myself. I had help at a distance from a colleague in Belgium, who was able to run some tests in Belgium for me. And some help of the SES Astra people and people from other networks helped me, and I helped them.
Did you work long hours?
We had super long working days! As I was originally supposed to stay longer than what I stayed in the end, I did 14 hours of intense work every day. I remember once we left to go out on the windscoop at half past one in the morning. That was the only free time we had. We came back at 3 am and slept only a few hours after that. When I wanted to do something besides work, I had to take it out of my sleeping time. But in the end it wasn't that annoying. It was a once in a lifetime experience!
What is your best memory?
I had already experienced the sun never going down in Iceland and Sweden - but the permanent daylight! And once, when the wind turbines were off, there was this complete and utter silence. All of a sudden I couldn't hear anything, and that was a powerful moment. The flat areas in Antarctica are somewhat comparable to Sweden, but still, Antarctica is a unique Place.
Than there was something funny: the pilots liked the food at the station. So when we heard a small airplane flying overhead, it usually meant it was nearly lunch time. They landed to come eat with us!
So, I would say firstly the silence, and the journey aboard the cargo plane. I would never have done such a thing otherwise. It was a lot like being in the army.
What did you have the most trouble with? Was there anything difficult you had to contend with?
Well, I was sitting inside most of the time. In that way it was quite similar to my other projects for me - at least as far as doing the work was concerned. Unforeseen things are a bit hard to manage, but it's perfectly normal for this kind of job. But of course I wasn't there for four to five months like the others; sometimes I saw that they were missing their friends and family. But I never experienced that feeling at all. And living together for four or five months can be hard sometimes.
Did you have trouble adapting physically?
Actually, no! I slept in a tent. I had something to cover my eyes and plug my ears with, so to me it was like sleeping in my own bed.
If you had to describe the whole experience in a few words, what would you say?
Unique, remote… I would go again, despite the stress, but I would prefer to stay longer, although not a full four or five months. Maybe one day. The station is a prototype, so it's probably not quite what it should be yet, but it's a first step! In my small firm (SingularIt), we are also slowly but surely moving towards 'Green IT', so the station project fits into our vision. We try to recover and re-use warmth emitted by the datacenters; we also try to be more energy-efficient and maybe even hook them up to wind turbines. We started about two years ago, but there's a lot of new technology coming up, so a lot is changing. Of course for the station I had to take energy consumption into account. But as for network and infrastructure, we could have done a lot more. But for the moment it's warm enough in the station!
Picture: Thomas Petracca - © Thomas Petracca