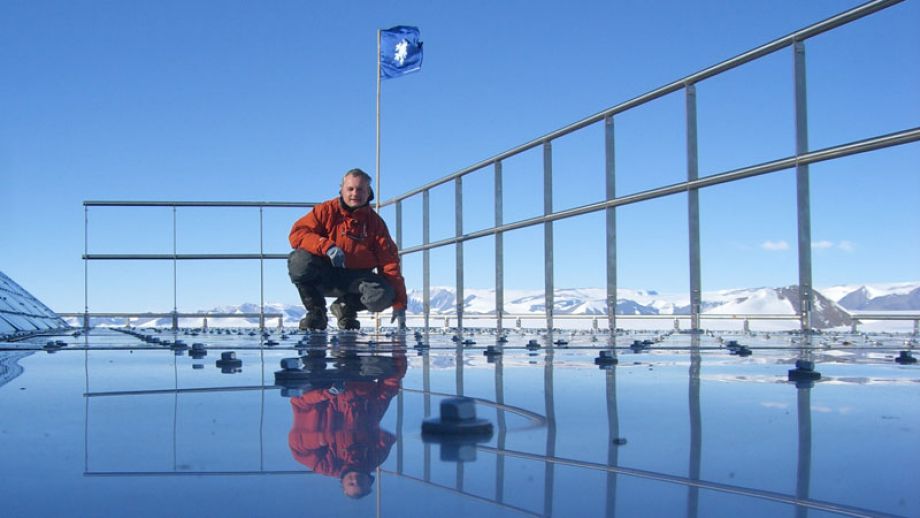 Johan Berte: the Work of the PEA Technical Team
Project Manager Johan Berte offers insight into the Princess Elisabeth technical team's current activities and how they were able to turn setbacks into opportunities.
How are things coming along for the PEA technical team this season?
Things are going very well form the technical side. On the one hand, we've had a big delay in getting a few pieces of equipment such as the new batteries for the station, which were on the ship. But there's always something to do here. We took advantage of the extra time to do a complete and thorough review of the station's electrical design to optimize the backup systems and make them more robust. We've made a number of modifications, both large and small. Now we're crash-testing the station under various scenarios on a daily basis to see how well these systems are working.
Are you happy with the results?
I'm very happy with the results. On the 29th of December we started testing out the systems with all the modifications we've made, and the station has never worked as well as it does now! Both backup generators are available off the grid, for when they're needed (not in parallel, of course, but either one or the other); we can couple them to the smart grid and synchronize them properly without any issue at all. We've been doing this systematically two times a day, alternating between each generator, and it works magnificently.
How about the other systems in the station?
From the water production and water treatment side of things, as well as solar thermal energy production, we are really performing beyond expectations. We have a lot of water available at the station – sometimes even too much water. But it's better to have too much water than too little!
What exactly do you mean by too much water? You're surrounded by more than enough snow to melt.
It has nothing to do with availability of snow to melt. We're getting used to the system and we're optimizing how it functions. During the summer there's a lot of solar energy available here since the sun never sets. We have and excess of energy and need to get rid of it somehow, so we melt snow on a daily basis – up to 1,000 litres a day sometimes. Even with the large group of people we have here, we were specifically asked to take showers because water production was too high! This is good. It means we have capacity to make more than enough water.
However we have to be careful with the water treatment system. We have to balance black and grey water in the right amounts (usually we don't have enough grey water), because you need both for it to function optimally. But it's not a real issue. It's just a matter of management. It's how things work at the station and we have to adapt.
It doesn't mean we're going to have to shower three times a day or anything. But it's a good sign, since there was a time when we were concerned about not having enough water.
So the amount of snow you can melt depends on the amount of sunlight available, essentially?
Yes, sunlight and wind, if you want to be coherent with PEA's "zero emission" concept. We can also use the backup generators to melt snow, but that's not the objective of the station's design.
What would the technical team have been doing had the Mary Arctica arrived on time?
If the ship had arrived on schedule on December 24th, we would have been replacing the old batteries with new ones, which were brought on the ship. It's a very delicate operation. The cabling is very intricate. Everything has to be installed properly. No mistakes are allowed. We also would have installed a more advanced battery monitoring system that will allow us to monitor each of the 192 elements that make up the battery array.
Besides that, we would have laid the foundation for a new wind turbine, and might have even had the wind turbine itself up. We also would have had outside cable trains installed, and we would have been starting to install on the roof of the station a set of experimental prototype solar photovoltaic panels which are not on the market yet. All of these things were on the ship.
Will some tasks have to be cut from this season's programme now? Or will you have to try to get more done in less time?
We'll have a look at our priorities and make some choices. There are items on our list that have to be done, and those that we'll do if we have the time. Our first priority is getting the new batteries installed. Then we're going to do complete tests on the station's systems, and test overwintering scenarios. That's what's on our "must-do" list this season, and there's no problem to get them done.
And then there are a number of "nice-to-have's", some of which we might leave for next season. Installing the new solar panels is not a priority this year, since it won't be key in testing overwintering scenarios, which we need to do. It might even be better to wait until next year because we've been considering a different type of integration. We're going to have a few brainstorming sessions to examine options.
How does the technical team plan its day at the station?
We work from a list of activities. Every day we have a meeting at 8:00 am to go over what we've done and what we're going to do during the day and we get started.
What was the general feeling at the station while everyone was waiting for the Mary Arctica to make it out of the ice?
There was a bit of stress because there were a few occasions where the convoy was getting ready to leave at 6:00 am, but then the trip ended up being canceled.
It was disappointing for the technical team each time the trip was cancelled because it's very nice to have the whole station almost to ourselves to check over things and get our job done undisturbed. It's more complicated to work when there are a lot of people here. We have the team of German scientists here, but they leave the station in the morning and come back in the evening, so they're usually gone all day.
But we don't want the convoys to be gone for too long, because we'd like to have the all the materials we're supposed to install!
When it looked like it would be a while before we were going to get our equipment, we didn't get depressed about it. We said, "Let's take advantage of this time to do a thorough check of the station's electrical systems." Of course the biggest worry was that the ship would never be able to arrive, which would have meant no equipment at all. That would have been a real problem.
Was it much of an inconvenience to live without fresh food for a few weeks?
Not at all. David, the cook, is doing a splendid job. With the frozen food we have here we're still eating very well. David was very creative and we even had a nice Xmas dinner!
I saw a few reports in the press that were a bit over-dramatized. But there's been no real emergency here. We're still quite spoiled at PEA! But we're running out of beer, which is a much bigger problem…
Are the residents at Princess Elisabeth more spoiled than at other stations?
Visitors to the station have always said they're very happy with the way they've been treated here, especially regarding the practical and day-to-day assistance they receive. It's quite nice here, and we shouldn't be too modest about it.
The Germans who are here right now have been to a lot of different stations, and they really love to do their work here. They're even happier now that they have their helicopters!
Picture: Johan Berte poses on the roof of Princess Elisabeth Antarctica - © IPF