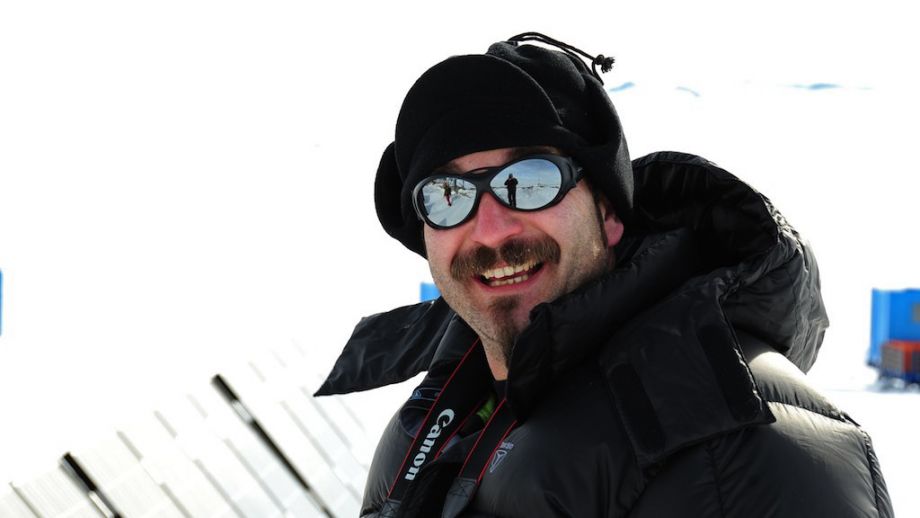 Kristof Soete: A Mechanic's Perspective
Kristof Soete, who has been a key member of the BELARE team for five consecutive seasons, offers a glimpse into life as a mechanic at PEA.
What have the priorities been for the mechanics during the 2011-2012 season?
At the beginning of the season we – François the other mechanic and I – had a lot of preventive maintenance to do on the vehicles – oil changes, filter changes, small repairs, and the like. In the middle of the season, we had the traverses to the coast to do to unload the ship, so there was always a mechanic who went along on those. And once the containers from the ship arrived, we switched over to building metallic structures to install solar panels on the roof of the station. Before we leave, we also have to do maintenance on the vehicles to prepare them for overwintering.
Did you go on all the traverses to the coast this season?
Normally there's always a mechanic going to the coast to handle any repairs that need to done. There weren't any incidents that required any major repairs, so we've done our job well I guess!
Is there any special kind of maintenance you need to do on vehicles that have to be used in Antarctica?
Not particularly. But we've adapted all maintenance programmes to the specific environment of Antarctica. We've had a lot of the vehicles for more than five years now, so we know the strengths and weaknesses of each of them. Outside of that we have to do regular maintenance – as soon as we see that something starts to malfunction, we repair it as quickly as possible.
Were you involved in unloading the Mary Arctica?
Yes. It's become a tradition now. Every year I participate in unloading the ship. Having done this for five years now, we've become quite an experienced team. It's pretty much the same people who go with Alain to the coast every year, so we're used to working together and things go quite smoothly. We've developed a nice rhythm as a team.
What kind of construction have you been doing on the station?
We've done some modifications on the exhaust and intake tubing for the generators. We've had to modify some solar panel racks so they can be used for the new kinds of solar panels we're planning to put up. And we've made some modifications to the mobile container unit scientists use as a base when they have to spend several days out in the field.
You've also modified some of the Japanese mobile units?
We made an interface rack for the Japanese modules, which are bigger than our 20-foot standard units, so we can put them on our normal Lehmann sledge. Next year when they do their hunt for meteorites, we can use our Lehmann sledges to bring them along.
We also made some mobile units for Belgian scientists. This year, we built a connection between two units and installed a snow melter. They're ready to use next year when a team of scientists are scheduled to do some field work on the Antarctic Plateau.
Do you normally do a lot of construction in Antarctica?
Our workshop here at PEA isn't very big, so it's easier to put things together in Belgium. Each year we do a lot of the big construction in Belgium before leaving, so all we have to do is finish assembling a few things once we got here. We save a lot of time working like this.
What are you involved with as the season draws to a close?
François, the other mechanic, is finishing the exhaust pipes for the generators, which we'll have to test. We also have to finish the solar panel racks on the roof of the station so we can install some of the new kind of solar panel to the station in winter. Once we finish that, we'll prepare all the equipment for overwintering and make a list of parts we need to order for maintenance on all the vehicles and equipment.
Do you need to do anything special to the equipment and vehicles to prepare them for overwintering?
We get rid of as much ice and snow as possible from all equipment and vehicles and check them over thoroughly. If we find anything wrong and we have the parts and tools handy, we repair it immediately. Otherwise we make a list of parts and tools we need to make repairs the following season. Since there's no place to buy hardware or parts in the neighbourhood, we have to be very thorough with the lists we make.
The main goal is to prepare everything so that everything is ready to use the following season as soon as the first team arrives at PEA. If we just put everything away without checking it over, we take the risk that a piece of equipment or a vehicle might not start. The start-up of the station at the beginning of each season is always a busy time, so it can be a big hassle to have to deal with extra problems. That's why we try to do as much as possible at the end of each season before leaving.
Where do you store most of the equipment and vehicles during the winter?
We put all the machinery and vehicles including the generators, skidoos and the Prinoth tractors inside the garage. The only exceptions are the big crane, which is too big to fit in the garage, and the bulldozer, which we use at the beginning of each season to clear away snow that accumulates in front of the garage doors.
Will you be one of the last people to leave the station this season?
Normally mechanics come in with the first team and leave with the last team. We start up machinery at the beginning of each season, and prepare everything for winter at the end of the season.
How has the work been this season?
We only had two mechanics this year, myself and François, which is less than we've had in previous years. Last year we were two skilled mechanics. François is not trained as a skilled mechanic, but he's very interested in learning and picks up technical things very quickly. We had a lot on our plate this year.
The season has been busy, but manageable. But it's been fun. If you like doing this kind of work, it's not really a job, but more like a hobby.
Overall the station is lucky to have such a good team. We're all becoming quite experienced, and we're getting used to one another. In a way we're becoming a small family!
How has life at the station been?
It was very busy this year. We've never had so many people around the station for such long periods. Normally the scientists stay a few days at the station and then the go in the field. This year, there were more people staying at the station for longer periods of time. It was a new situation we had to get used to, but it was an enjoyable season overall.
I've been to Antarctica five times now, and over the years you start to do things by habit. Every year we try to do something new. And there's always a challenge around every corner.
Picture: Kristof Soete - © International Polar Foundation