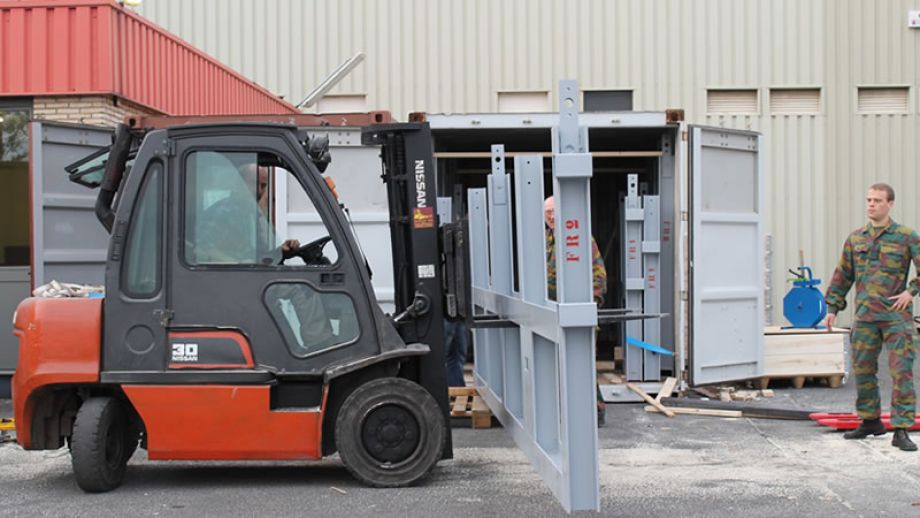 Loading Operations at Wervik
Extreme expeditions require exceptional logistics, and this is especially true for Antarctica. Preparing the 2011-2012 season, a special operations team packed and loaded the freight cargo to be shipped to Antarctica on-board the Mary Arctica.
From November 7th to 10th, a team of specialists from the military base of Berlare led by Lt Vanhende packed the various containers with their sea cargo at the logistics depot at Wervik (Belgium). Thanks to the experimented soldiers, the loading went smoothly and the 13 containers were moved to the seaport of Zeebrugge, where the army dealt with the material transportation and the administrative paper work.
Participating in the operations were units from Amay (4Bn Genie), Grobbendonk (10Cie transport), Zeebrugge and Ghent (Movement Control Group). The handling of the cargo, from loading to arrival at the port of Zeebrugge, was coordinated by chief adjutant Clauwaert and was executed perfectly. From start to end, the operation has been a major success and a perfect example of collaboration between the Belgian Defense and the BELARE team, marking the great start of a new season on the white continent.
Picture: Militaries loading the containers - © International Polar Foundation