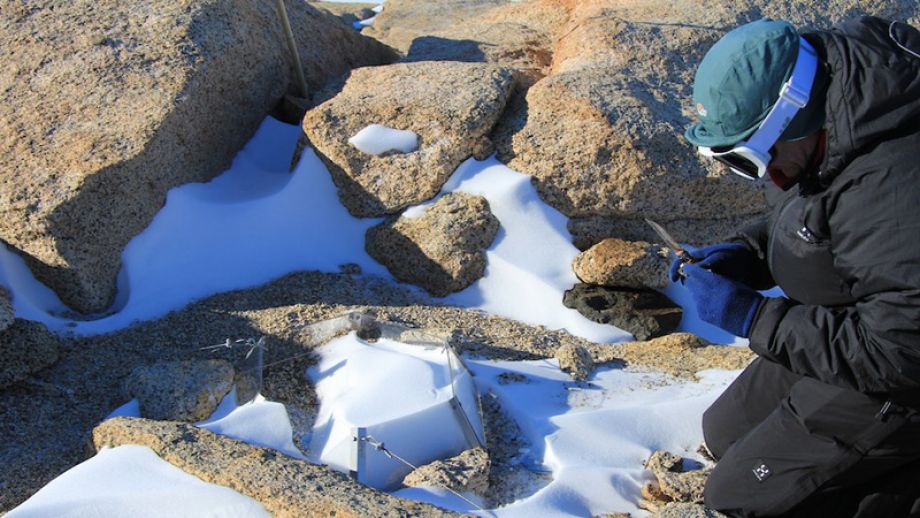 Microbiology in a Climate Change Context
Elie Verleyen is back in Antarctica in the framework of the BELDIVA project. Part of his mission is to check upon and collect data from the open top chambers installed three years ago by Zorigto Namsaraev.
What are Open Top Chambers?
Open Top Chambers (OTC) are small greenhouses made of plexiglas used by scientists to simulate how future climate change might affect micro-organisms living inside.
The containers increase the temperature (an average of 2°C) and humidity, and shield everything inside them from strong winds. Using sensors, scientists monitor the parameters inside the OTC and outside of it. These sensors can log the data for a one year period, so they have to be collected and replaced on a yearly basis.
Good news
As you can guess, the harsh conditions in Antarctica can be detrimental to these fragile chambers. Elie was really happy when Alain Hubert sent him pictures of the Open Top Chambers installed on the Utsteinen Nunatak earlier this season. They had survived the winter and were in very good condition!
Since he has arrived at the station, Elie has been touring the various spots where Open Top Chambers were installed to do maintenance work on them and collect data. He is also taking samples and pictures to monitor the growth of the micro-organisms living inside them.
Watching Elie working, it always baffles me that by studying such small things, we can get precious insight into large scale issues like climate change. We already have scheduled an interview with him to see how his research is coming along and if trends can already be identified after three years.
Picture: Elie Verleyen collecting samples from one of the Open Top Chambers - © International Polar Foundation