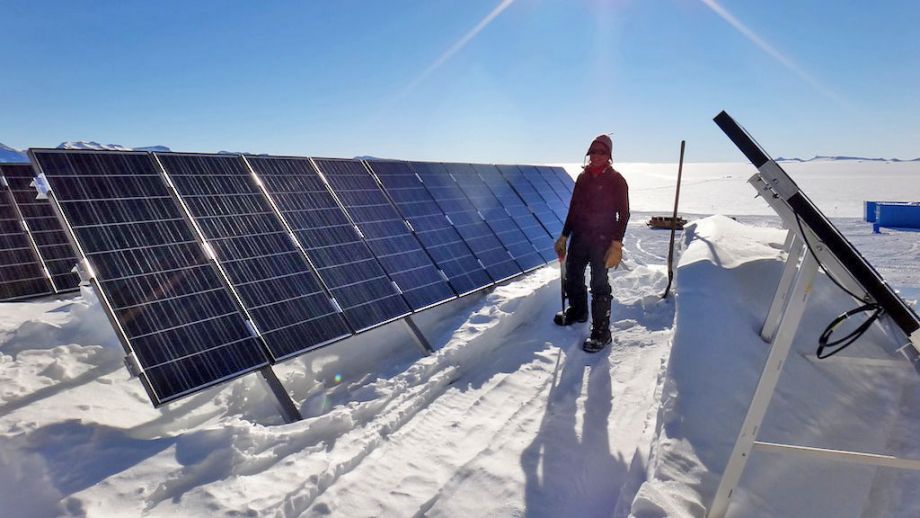 New Solar Panels and Another Trip to the Coast
In the coming days, the IPF team is going to be busy with two missions: installing and testing a new model of photovoltaic solar panels and dismantling the scientific base camp erected at the Coast near Crown Bay.
Departure for the Coast
At 3h00 last Thursday, a small team left the station for Crown Bay to dismantle the German base camp. They will also bring back the unused fuel supplies. These cannot be left unattended at the coast during the winter; they must be securely stored at the station. On the way back, Gigi, Alain and Erik will take the yearly measurements for GLACIOCLIM, a project managed by the LGGE in Grenoble. For the last 4 years, the IPF have been collecting data that will help them study the relationship between glaciers and climate.
An Evolving Prototype
Meanwhile, everybody will also help the technical team to install a new model of solar panels on the roof of the station. We hope that this experiment will be beneficial in two ways: reduce snow accumulation on the panels during the winter and increase solar energy production. Princess Elisabeth is a scientific facility first and foremost, but it can also act as a fantastic benchmark for existing sustainable technologies in extreme conditions. We modestly hope that the station can play a role in improving these existing technologies.
Jacob is still relentlessly improving and fine tuning the water treatment system, while another team is extending the automatic fire protection system to better cover all areas of the station main building and technical areas. Nothing like living in a prototype to keep engineers happy!
Picture: Unmounting old solar panels - © International Polar Foundation