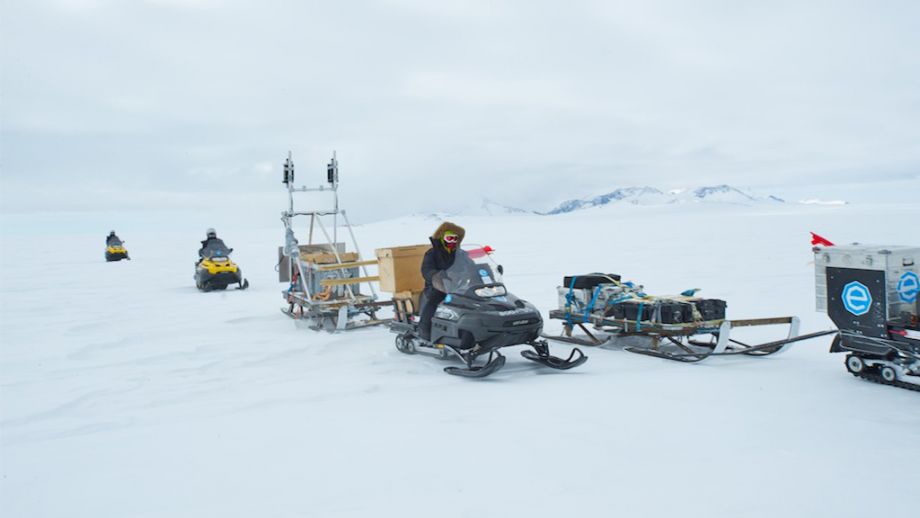 News from the scientists in the field
Five scientists from the IceCon and Be:Wise projects, accompanied by a field guide and Princess Elisabeth Antarctic base leader Alain Hubert are currently on an expedition to the coast, some 200km away from the station. We talk to base doc Jacques Richon for updates on what's happening down south.
Communication with the station
During an expedition like the one Alain and the scientists are taking part in, far away from the station, the preferred method of communication is via satellite phone. Every morning and every evening, at a fixed time, the team contacts the station to give their position, weather information and to report on the tasks awaiting them or completed during the day.
Along with the two satellite phones (for redundancy), expedition teams sometimes take what is called an Inmarsat along with them. That is essentially a satellite modem for Internet connections. When scientists have to send a lot of data or complicated briefings, they can use it to send emails or transmit data.
If that daily rendezvous is missed, we know something happened. A rescue expedition is ready to go out any moment when people are in the field.
Everything is fine for the IceCon team
Fortunately, everything is fine with the IceCon and Be:Wise expedition. We receive regular news from them, the weather is fine and their scientific operations are on schedule. On Monday, they arrived at the Derwael ice rise, where a monitoring station was installed last year. While in the area, they are going to collect new measurements, gather the data collected during the winter and service the monitoring station.
IceCon aims to gain a better understanding of the rate of the loss of ice – now and in the past - from the Antarctic ice sheet in the Dronning Maud Land area. Be:Wise aims to improve understanding of ice-shelf flow dynamics by focusing on the buttressing role of ice rises and pinning points – small offshore mountains which support Antarctic ice shelves from underneath.
The team are scheduled to return to Princess Elisabeth Antarctica around the 13th or the 14th of December.
German scientists as guests
The German geologists from the Alfred Wegener Institute and their Polar 6 plane have changed their plans and have asked to be at the station to finish their work. They arrived a couple of days ago and will leave on the 18th. In the meantime, we have their plane and seven people to take care of, which means we have to be creative with our logistical planning.
That being said, it is very nice for the team that they asked to come here for their research. It shows that the station is well regarded by the international scientific community. As an operator, it is always good to hear that the services you provide are appreciated.
Picture: Heading to the Antarctic Plateau to install the new GPS station. - © International Polar Foundation