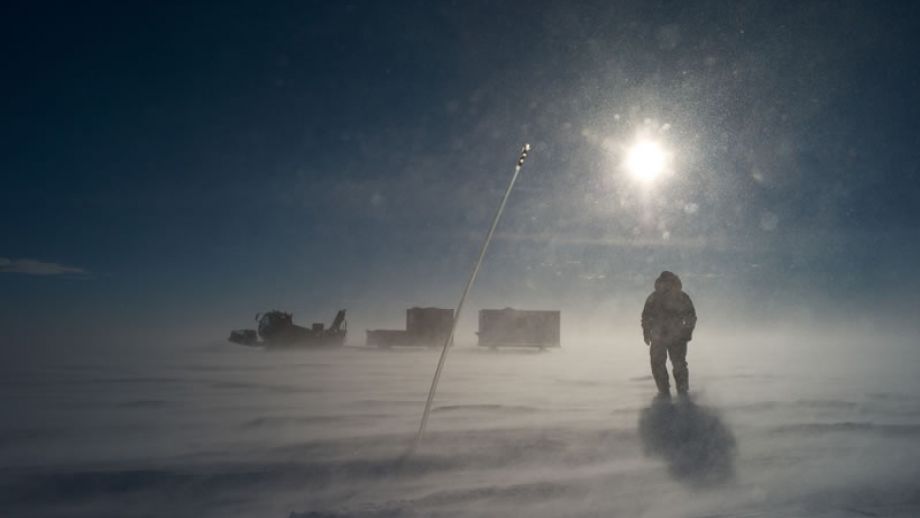 Polar Research in a Sea of White
On Saturday, Jesko and Olivier left for the station from the coast with the remaining three heavy containers. Alain, Rene, Eric and I set out to do the glaciological observations for the LGGE project Glacioclim, which involves measuring the glacier movement and the snow accumulation around 60 beacons placed last year. As these are difficult to see with the poor conditions, we had to rely on our GPS navigation.
Alain and René led the way to find the posts, measure snow accumulation, and place new stakes, while Eric and I followed in complete white-out. We met at every third post to take a core sample to measure snow densities and check the transformation of the snow into other phases towards blue ice. We drilled down to 2.5 metres each time, and in the tough conditions, this became quite a feat in itself.
At the end of day one, we had only done one third of the stakes. After a night under canvas, we continued under the same conditions for a second day. Dead tired at the end of the day, we headed to the nearby Romnoes, where we set up camp and headed off to collect some rock samples. We took a long snow ridge approach up the eastern flank, and followed a moraine to the top flanked by a wind blowing at 120km/h.
The view across the Thor's Hammerhallet plain was well worth the breathless ascent, and the surrounding play of light and colour stole our breath as effectively as had the wind. Having spent days robbed of every colour but white, the senses were hungry for this spectacle. At waist height all around us, snow crystals were blown in fast flowing streams or were being pumped out off the mountain in clouds across the plain.
Back at the camp, we ate and slipped into our sleeping bags as the wind picked up again. By the morning, there was an enormous drift around our tent. To get out, we had to kick off the top of the snow ridge, and slide out through the gap. The weight of the snow proved too much for one tent and we had to spend a couple of hours digging it out.
We arrived back at the station in the late evening after having turned in circles in a blinding whiteout. At times the snow would lift slightly and you could make out a barely discernible tract left by Jesko on his way back to the station.
Today, the Polar 5 landed in falling visibility, we lighted flares on the runway to help them see where to go and then drove them back here. We are hosting Daniel Steinhagen and Detlef who is back, as well as Jon Sipko, our old friend from the Ken Boreck flight crew from last year.
Picture: Polar Research in a Sea of White - © International Polar Foundation