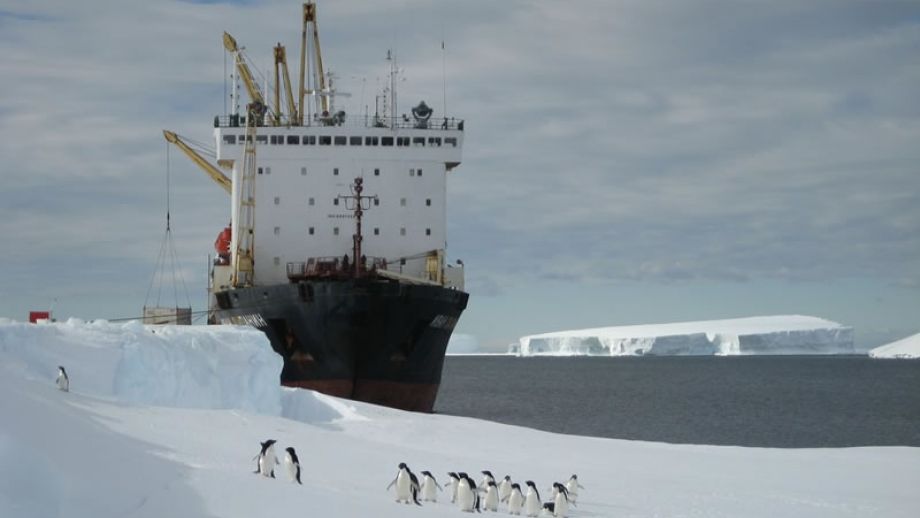 Research at Princess Elisabeth Station: CAML
For the second year in a row, scientists and associates from the Royal Belgian Institute of Natural Sciences took part during BELARE 2008-2009 in the Census for Antarctic marine Life (CAML). Initiated in 2006, CAML is a 5-year project which aims to assess the nature, distribution and abundance of all living creatures in the Southern Ocean in order to establish a baseline of Antarctic marine biodiversity against which future change can reliably be compared to.
During BELARE 2008-2009, Alain De Broyer, Antoine Joris and Henri Robert (supported by the Fonds Léopold III) boarded the Ivan Papanin, a Russian ice-class cargo ship, in order to repeat the Top Predator census which had been done on board the same ship last year (BELARE 2007-2008) by René-Marie Lafontaine and Alain De Broyer. Once again, the supply ship left from South Africa, direction 5°East and the Norwegian Troll Station, before reaching Breid Bay near the Belgian Princess Elisabeth Station (located 200 km inland). In addition to the stopovers it made during the 2007-2008 journey, the ship also accosted Atka Bay (near the German Neumayer III Station) before returning to Cape Town.
For six weeks, data was collected during 234 half-hour periods in the open water and 210 half-hour periods in the sea ice. 51 species of birds, 5 species of whales, 6 species of dolphins and beaked whales, 3 species of seals and 1 specie of fur seal were observed and monitored qualitatively and quantitatively.
Observations are made with binoculars and telescopes. Every bird and mammal is recorded no matter how far away it is from the ship, and the GPS coordinates, meteorological conditions and time of day are noted at the beginning and end of each shift. A video descibing how data was collected by CAML members during BELARE 2007-2008 was published on the International Polar Foundation's science website, SciencePoles.
All data were digitized and incorporated to the SCAR-Marine Biodiversity Information Network (SCAR-MarBIN) database in order to make the dataset publicly accessible through the network.
Preliminary Conclusions
Although the geographical distribution and abundance of species in the Southern Ocean is fairly well known for a good portion of the avifauna (birds), scientists are finding that accurate data about the feeding grounds, movement and density of some species is still very scarce or totally inexistent.
Marine mammals are mostly difficult to observe, their feeding grounds being, for most species, extremely remote and/or undetermined yet. Their density during the austral summer is often virtually unknown.
The two BELARE seasons have enabled scientists from CAML to cross the Southern Ocean and collect valuable data that will help better understand the distribution range and abundance of most species observed in a rarely visited region of the Antarctic.
In a near future, climate change may cause drastic perturbations to occur in the surrounding habitat of most species in the Southern Ocean. The CAML will allow future generations of scientists to assess, understand and, hopefully, limit the consequences of these perturbations.
Picture: Ivan Papanin and Adelie Penguins - © International Polar Foundation