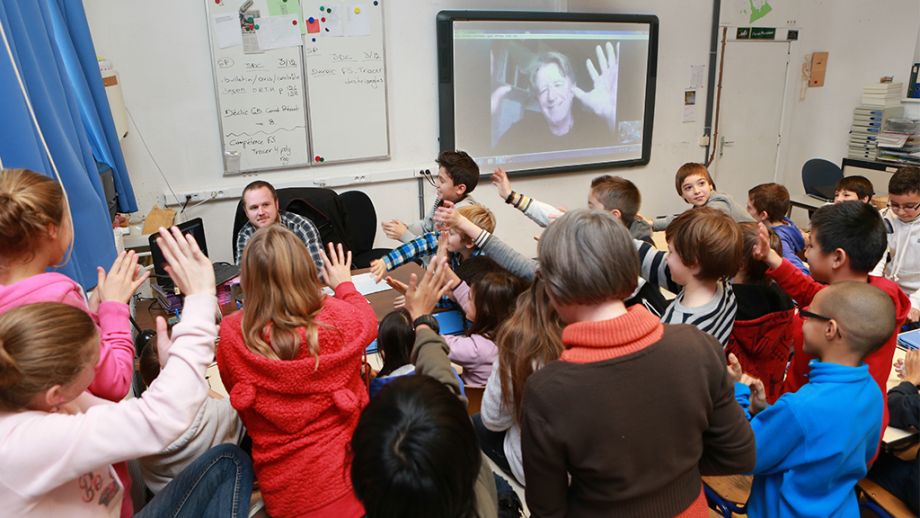 School children speak live to Antarctic scientists
Four Skype calls were organised by the International Polar Foundation between schools and the Princess Elisabeth Antarctica station (PEA) in the framework of celebrating Antarctica Day on December 1st.
Two schools in Belgium and two in the UK had the unique chance to talk to people at the station in Antarctica. Myriam Dielemans, volunteer at IPF, went to check out one of the Skype calls, which was between 11 and 12 year old pupils at the Ecole du Centre de Woluwe-Saint-Pierre and Jaques Richon, doctor and guide at Princess Elisabeth. She described it as follows:
"The children were glued to the big screen, transfixed by the words of the doctor when he spoke of penguins, ice, cooking and daily life at the station. When he showed the view from his window, there was spontaneous applause."
The kids were very keen to learn and asked one question after another. For example:
What's the temperature now?
This morning, the weather was nice: -12°C and almost no wind. It's light for the whole time as it is summer. Inside PEA it's 18°C without heating as the station is very well insulated. The walls are 60cm thick.
What do you eat?
Food is transported by ship once a year and all food is frozen. We get a bit of fresh food by plane. However, we have a very good cook, so we eat really well!
Do you have time off?
On Sunday, nobody works. You can go for a walk, go skiing or climbing in the local area. In the evening I usually read a book, but you can also watch films. However, there is no cinema or bar.
Children from Bosworth Academy near Leicester, UK had been doing the Class Zero Emission workshop on Polar Regions and climate change. They had the chance to speak to Alexander Mangold, one of the researchers working at the station. Matt Blackmore, Geography teacher at the school reported:
"The workshop, experiments and kids were all great and went smoothly. They really enjoyed it, but definitely the best was Alex's live link - the kids really grew in confidence and were chatting with him and all got stuck in with some questions. He gave us a mini tour of the station!"
IPF would like to thank Jacques Richon, Walter Cumps, Alexander Mangold and Kristof Soete for making these Skype calls possible.
Picture: School children speak live to Antarctic scientists - © Commune Woluwe Saint Pierre