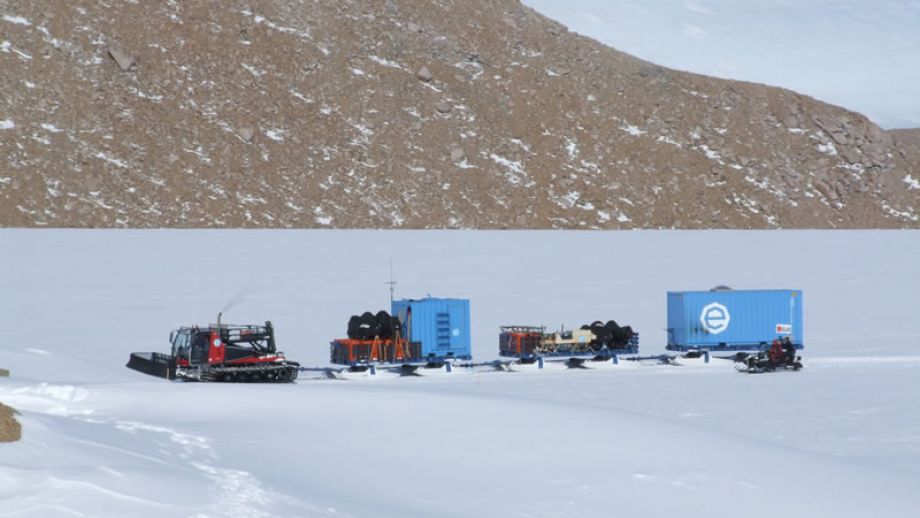 Sea Water Measurements at the Coast
Last week, a small team led by Alain Hubert guided BELISSIMA scientist Katherine Leonard to the coast. The trip went well, and upon reaching the coast, the team quickly set up base camp. The next day, a smaller convoy of four ski-doos left for the drilling sites, where the team was to take measurements.
Between December 2nd and 6th, the team covered a distance of 160km and drilled in 4 places. Finding a way to the sea ice for the equipment wasn't always easy, as Kristof Soete explained on the phone Tuesday. "Two days ago, we were facing a five-meter wall, he said, and the team had to dig out a passage for the ski-doos to go through with the scientific equipment".
On the sea ice, the team had to drill the ice to access the water. Then, bottles were lowered into the holes to take CTD (Conductivity, Temperature, Depth) measurements of sea water every four seconds, along approximately 300 meters of cable.
On the evening of December 6th, 12 CTD measurements were done and 80% of the scientific work was completed. On December 8th, the team should be back at base camp to wrap it up and leave for Crown Bay (60km to the West), where the Mary Arctica should arrive in three weeks' time.
There, the team will try to determine whether the place is still suited to offload the ship and prepare the landing strip for the Basler of the German AWI scientists. When they are done, the team will return to PEA, probably by December 12th.
Picture: The team on their way to base camp - © International Polar Foundation