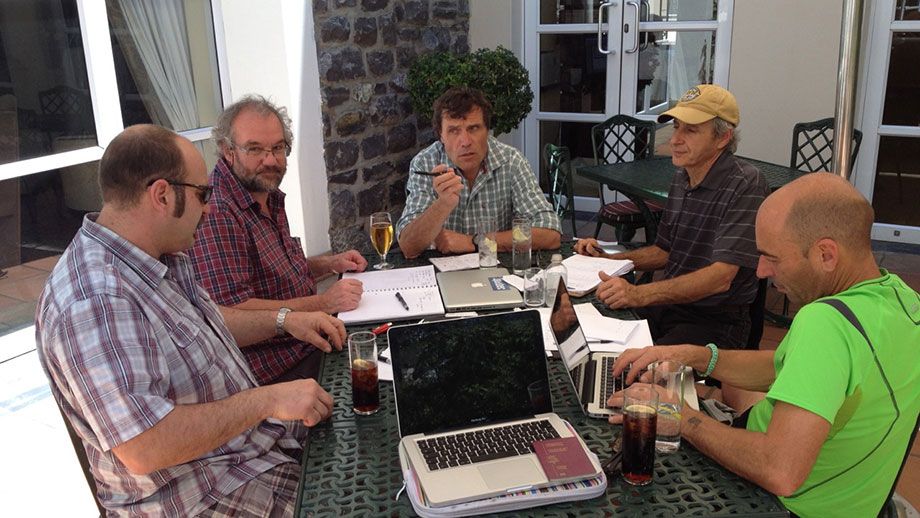 Start of 2014-15 season delayed slightly, but team makes good use of extra time in Cape Town
For the past several days, International Polar Foundation President Alain Hubert and members of the first team that will head to the Princess Elisabeth Antarctica station for the 2014-15 research season have been in Cape Town, South Africa, making sure everything is ready to go.
However due to bad weather conditions in East Antarctica, Alain - along with the engineers and mechanics (who will start up the station for the season and get equipment running), the cook, and a trained field guide - have been spending a little more time in Cape Town than originally planned.
Alain and the first station team were scheduled to leave for Antarctica the afternoon of Tuesday November 4th. But Mother Nature had other plans for them. Meteorological conditions at the Russian Novolazarevskaya station (where the team first lands in East Antarctica before taking a connecting flight to the Princess Elisabeth station) have been too rough to allow the Ilyushin transport plane (which takes equipment and crew to Antarctica) to land safely. They had no choice but to push back departure from Cape Town a few days until weather conditions in East Antarctica improve.
Making the best of it
In the meantime, Alain and the team have been making good use of the extra time they've had to spend in Cape Town. In addition to holding meetings to finalise the work plan and logistics for the opening weeks of the season, they have also been shopping for necessary supplies and equipment.
Given that the weather in Cape Town over the past week has been warm and sunny with temperatures in the mid-20s, it's not the worst place in the world to be stranded for a few extra days. By next week, the station team will start their four-month tenure in Antarctica greeted by temperatures hovering around -20°C. Enjoy it while you can, guys!
The season is almost upon us!
The second team heading to Antarctica - two builders - are scheduled to arrive in Cape Town this coming Saturday November 8th. However they won't have much time to spend with the first team heading to Antarctica. Alain and the first wave are scheduled to take off from Cape Town early on the morning of Sunday November 9th. They expect to arrive at Novolazarevskaya station by midday, and shortly thereafter, take a connecting flight on a Basler DC-3 plane to the Princess Elisabeth Antarctica station.
If all goes well, the team expects to arrive at the station by mid-afternoon on Sunday and get down to work straight away. After starting up the station systems, the team will have to check that equipment such as tractors and skidoos are in working order, and begin the arduous task of clearing away snow from the entrance to the garage.
Picture: Alain Hubert, Craig Masson, Jacques Touchette, Kristof Soete and Christophe Berclaz discuss the work to be done at Princess Elisabeth Antarctica during the first weeks of the 2014-15 season. - © International Polar Foundation / Michel de Wouters