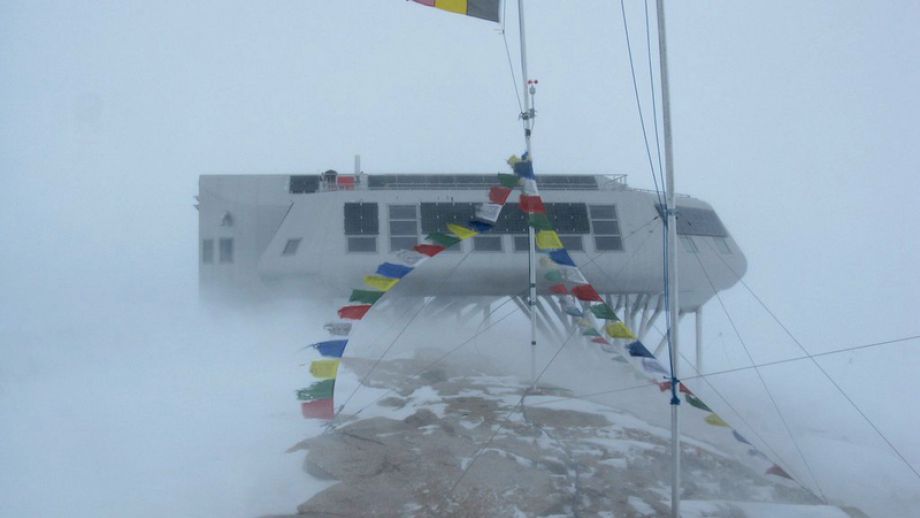 Storm Warning in Utsteinen
Hardly had we returned from the BELISSIMA expedition, that the weather changed unexpectedly. Tuesday evening, the bright blue sky turned into a gray horizon in less than four hours. An extremely dense fog set in, quickly followed by wind gusts that locked us all in.
In these extreme conditions, only two outside activities are allowed, and are only to be carried out in pairs by people equipped with a VHF radio:
Clearing the snow melter door, which is crucial to ensure the team's access to water.
Checking the scientific instruments installed in the shelters along the ridge and on the roof of the station, quite a challenge when the wind blows so hard that you can hardly stand up.
Inside Activities
However, the storm is an opportunity to take up tasks that were left aside as well. The team varnished the station's walls and furniture, installed of a few shelves here and there, maintained the portable machinery, reinforced the garage's posts and beams, thoroughly cleaned some rooms, inventoried the stocks and set the material to dry.
In the evening, they took some time to relax and learn new things. Yesterday, Katherine Leonard gave a presentation on the BELISSIMA campaign and enlightened us on Antarctic glaciology. The presentation ended with pictures of McMurdo base, which turned into a small city of more than 1,200 inhabitants over the years; we feel lucky to be at Princess Elisabeth Antarctica!
Hoping for milder weather
By Sunday, the storm had settled a little and we are hoping for better weather on Wednesday to welcome new Belgian and German scientists, as well as most of the IPF staff. In the meantime, I would like to issue special thanks to the IPF staff that has already provided 160 hours of in-field support since the beginning of the season, as well as 505 hours of support to the BELISSIMA campaign that just ended. Thank you all!
Picture: The storm hitting the station - © International Polar Foundation