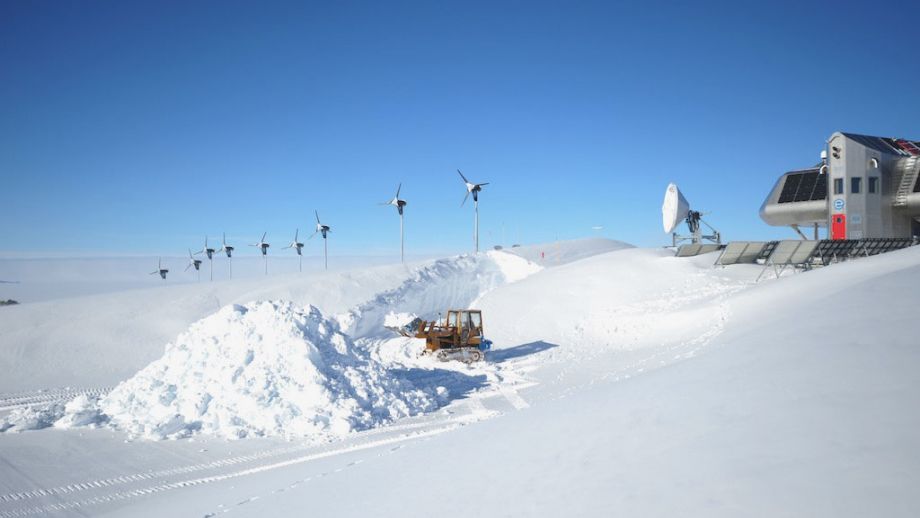 The First 48 Hours at Princess Elisabeth Antarctica
It's been just over 48 hours since the Princess Elisabeth Antarctic team touched down for the beginning of the 2012-2013 season. Expedition leader Alain Hubert shares his first impressions from Antarctica.
From the earlier news posting, I guess you all know that we arrived on Tuesday around 9.00am. There's been lots of snow accumulation this year: twice the amount of last year, and it's been quite windy for the first two days.
There's been no big damage to the station, except a 500-metre-long optic fibre cable broken, presumably during a big storm. This explains why we experienced a stop in data communication from the remote north science shelter a few months ago.
On arrival, Gregory and Kristof started the bulldozer; Greg I and started to remove snow, while Erik and Karel began switching all of the station's circuit on. Because of the heavy snow, we've had to work 16 hours day in order to be able to get two tractors out of the garage by 2pm on Wednesday. This morning, we're ready to start the snow melter, fill the reservoir with snow and have fresh water by tonight.
Craig is reopening all water pipes and warming the exchange tank for melting snow. Max is busy with melting snow and de-freezing stuff so that dinner can be prepared. Olivier is everywhere, helping to fix problems, while Doctor Jacques is working in the medical cabinet, making sure that everything is ready in case of a potential accident. Jacques Touchette and myself are as usual everywhere at the same time...
The station is warm – we had already remotely increased the heat – generated by the station's renewable energy systems into the station prior to our arrival: temperature was 16°C which is fantastic. It was very comfortable for the all team to be able to sleep in a heated room for the first night in Antarctica.
It is fantastic to be able to keep the control of the station all year round, everything was working after just a few hours. This is pretty amazing – even the Internet was working when we arrived!
The hard work continues – there's a chance we might have to refuel a Dromlan feeder flight this afternoon. Preparing the airstrip will take lots of time as we had plenty of wind from two different directions last winter. Our landing was a bit rough… and "a bit" is an understatement.
Today the wind is dropping, so we will be able to make good progress. We expect to finish removing snow from the front of the station and open all doors by tomorrow night – so long as the weather stays good.
Picture: Clearing the accumulated snow in front of the garages - © International Polar Foundation / Alain Hubert