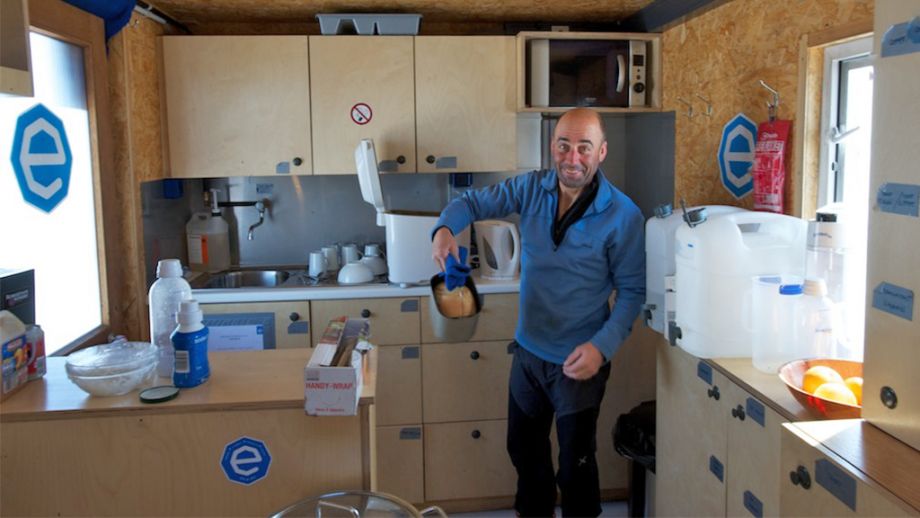 The Smell of Fresh Bread in Antarctica
Now that the IceCon and Be:Wise teams have returned from their expedition to the coast, we talked to Alain Hubert to get the latest on the logistics and support provided to scientists who come to work in Antarctica, and the pleasures of baking fresh bread!
On the 14th of December, five scientists, Alain Hubert and field guide Christophe Berclaz returned to Princess Elisabeth after spending 11 days in the field. The expedition was dedicated to servicing various instruments installed last year and to take measurements for the IceCon and Be:Wise projects.
IceCon aims to gain a better understanding of the rate of the loss of ice – now and in the past - from the Antarctic ice sheet in the Dronning Maud Land area. Be:Wise aims to improve understanding of ice-shelf flow dynamics by focusing on the buttressing role of ice rises and pinning points – small offshore mountains which support Antarctic ice shelves from underneath.
A faulty radar and successful measurements
By comparing measurements each year at the same 25 locations, spread out over a relatively large area, scientists are able to compare these data against their theoretical models and improve their accuracy. The scientists also took radar measurements to complement these data.
Before the expedition, one of the radars wasn't working properly. Thankfully, Karel and Erik, two of our engineers, were able to repair it. Results: team of happy scientists able to put the radar back into service, instead of having to ship it all the way back to Belgium for repairs. That saved a lot of time and money!
Crevasses, tractors and skidoos
Both of our field guides have had plenty of work to do do during the expedition. We're working in terrain is very treacherous, littered with crevasse zones. Crevasses are really hard to spot and very dangerous for our convoy and for the scientists carrying out their tasks. Most crevasses were hidden by the heavy snowfall of the austral winter.
On the Derwael Ice Rise, we serviced a permanent GPS station that had been installed there last year. We had to dig more than two metres deep into the snow, got the instrument out, serviced it and then put it back into place. Luckily, we had the tractors with us and were able to accomplish this relatively quickly.
La Boulangerie du Sud
During the whole expedition to the coast, we lived in our very comfortable mobile camp, which are basically shipping containers on skis. This year, we even made bread in our kitchen for the first time while in the field. Can you believe it? The smell of fresh bread in Antarctica!
After ten days in the field and a very successful scientific mission, a 24-hour drive brought us back to Princess Elisabeth for a debrief and some well deserved hours of rest.
Picture: Christophe Berclaz, field guide, Antarctic baker extraordinaire - © International Polar Foundation