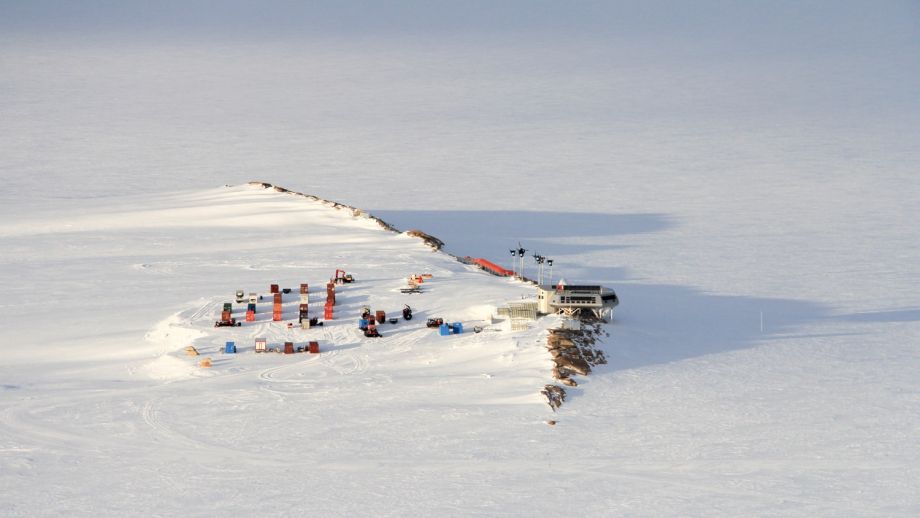 Construction Team Flies to Antarctica
In January, the construction of the Princess Elisabeth building is due to begin (wooden and metal structures). A radical turnover in the team will take place on site: the Prefalux building team will replace the General Construction drilling team. The latter should arrive back in Brussels on January 17.
Despite a slight drift in schedule to complete the station's anchoring due to an intricate design, the site's preparation has been progressing with impressive success. Six wind turbines have been mounted, one of which is currently being tested, the garages have been built and the doors put in, the station's anchoring holes have been drilled and the container traverses are well underway between Crown Bay and Utsteinen.
January will be the busiest month in the Utsteinen and Crown Bay areas, gathering a record of 37 people on site. During this coming stage, the container convoys will continue to be hauled to the base camp, the last wind turbines will be mechanically assembled and mounted on the rock, and the station's outer structure will be constructed. The building's outer shell is to be completed in February, in order for the joints to be sealed and the station to be ready for shut down before the austral winter.
Scheduled to leave on January 3rd from Zaventem airport at 4:30 pm:
Volunteer cook: G. Hanriot,
7 Prefalux builders (suppliers of the wooden structures): A. Loeffel, G. Bianchi, JM Rinie, K. Klink, HJ Clemens, N. Giering and N. Tittelbach,
1 cameraman: B. Luypaert (RTBF)
4 drivers: B. Tyberghien (mountain guide), V. Gillard, Ph. Sohet and Th. Ronvaux
1 doctor: J. Richon
Officer in charge of military contingent: R. Wagemans (mil)
Besix foreman: M. Debandt
Base Commander: N. Amin Johnson