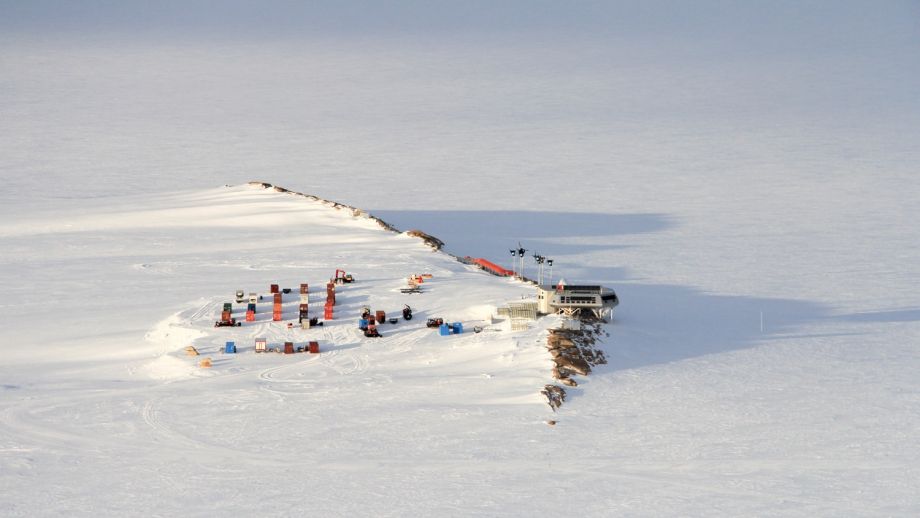 Ivan Papanin in Breid Bay
The Ivan Papanin ice-class cargo ship accosted Crown Bay (70°S 23°E) on Friday December 14 at 7 pm. Situated 40 km away from Breid Bay, Crown Bay has earned its name due to the presence of a nearby iceberg shaped as a crown. The Ivan Papanin has reached its final destination, after 38 days of smooth sea-traverse from Belgium to Antarctica.
For reminder, the 120 containers carrying the Princess Elisabeth Station were loaded in Antwerp and left aboard the Russian Ivan Papanin ship on November 6th. The ship stopped over in Cape Town at the end of November in order to refuel the ship and load the last containers of food. After a first stop near the Norwegian Troll Station for equipment drop off, the Ivan Papanin is now due in Breid Bay.
So far, the traverse has gone very smoothly. However, the ship still needs to pass through difficult ice conditions and find a suitable place to accost the ice shelf. Alain Hubert made his way towards the coast a few days ago, to start identifying potential unloading sites. For the time being, Point Delta within Breid Bay looks to be the most favourable spot.
The Princess Elisabeth Project is being deployed according to plan thanks to a solid collaboration between the IPF, the Belgian Science Policy Office (Belspo) and the Begian Army. Eighteen people in total are on the ship. Amongst the ship's crew, eight military officers are coming in to replace their colleagues in Utsteinen who have prepared the site for the arrival of the Princess Elisabeth Station.