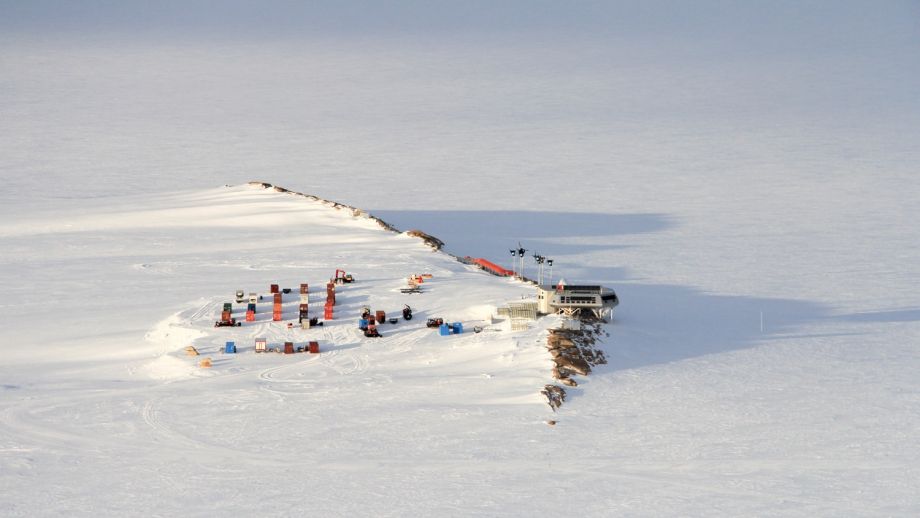 Last Team Turnover
The BELARE team at Utsteinen is getting ready for the last turnover of its members. A DC3 Basler flight will bring in three new people to Utsteinen today, February 14th, and take away eight others, leaving thirty-two on site. The Princess Elisabeth Antarctica (PEA) Station is about to enter the third and last stage of its construction: the sealing of joints and the station's shut down.
The working team at Utsteinen is now facing colder temperatures and stronger winds, as winter slowly creeps in. Mrs. Nighat Amin, general administrator of the PEA project, who will be flying out of Utsteinen today, specifies that "as long as the station's roof hadn't been finished, snow accumulated into enormous drifts inside the station as soon as there was a storm. Teams who went to work inside the station found that even with shovels and brooms, they couldn't keep up with the rate of accumulation."
The last exterior module was mounted on the station and the front door added to the tower. The roofing of the station was completed in the evening of Wednesday, February 13th.
Alain Hubert, project originator and general supervisor, was delighted. "We opened the front door for the first time and peered in through the high tower. It's wonderful to see what we've achieved! The team here is absolutely fantastic. I have never seen anything like it. But the expedition is not over yet and problems can arise at any stage. We are taking the adventure one day at a time until the job is completed."
There is still a month left for the BELARE members to finish off their work before they return to their respective countries. The team is as motivated as ever, seeing that their work is being followed worldwide. IPF's Headquarters in Belgium is still seeking contributions for the project, which will continue until next February 2009.