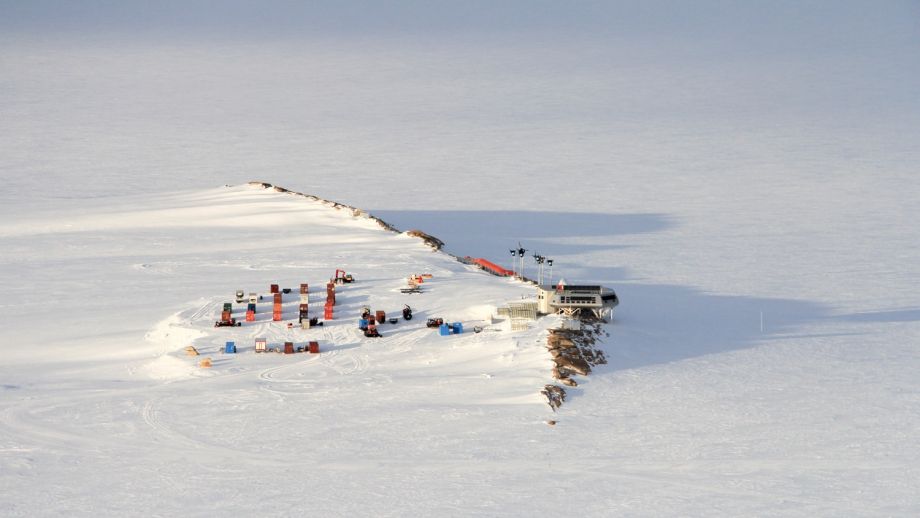 Site Survey Expedition
The first Belgian Antarctic Research Expedition, BELARE 2004, took place from November 25th to December 4th. The expedition was mandated to gather a number of measurements necessary for the design and conception phase of the station.
The first objective of the site survey expedition was to select a construction site for the new Belgian Antarctic Base in the Dronning Maud Land area of Antarctica.
The selected target area for the expedition was in the Sør Rondane Mountains. This mountain range is situated in Dronning Maud Land, Antarctica. The Sør Rondane mountain range is potentially good since it is more protected from the fierce katabatic winds and offers an easy and safe access to the polar plateau via the Gunnestadbreen, one of the outlet glaciers in the mountain range.
"The proposed site of the Belgian station on Antarctica is situated 300 m North of Utsteinen nunatak, on a small relatively flat granite ridge, sticking out of the snow. The ridge – oriented in a more or less NS direction – is 700 m long and a few meters large and elevates 20 m above the surrounding snow surface in the accumulation zone. The position of the area is 71°57' S and 23°20' E. Utsteinen nunatak lies 60 km from the former Japanese Asuka station; 190 km south from Breid Bay, the edge of the ice shelf, 180 km south from the former Belgian Roi Baudouin base, and a few kilometers from the Sør Rondane range itself."
After the first phase had been carried through successfully, field activities then comprised of on-site installations and monitoring (establishing an automatic weather station, surveying the topography, geology and biology, and sampling the environmental "clean-state"), followed by an access route survey to the coast and to the station. The results of these tests were destined to start the design process of the station and to serve as a basis to the future environmental monitoring program of the site.
The chosen landing zone was identified at Utsteinen. Geologic field work demonstrated the existence of a small rim north of this Nunatak that was relatively flat and consisted of exposed bedrock (granite). The area around the nunatak is characterized by relatively soft snow, hence a good landing site for small aircraft.