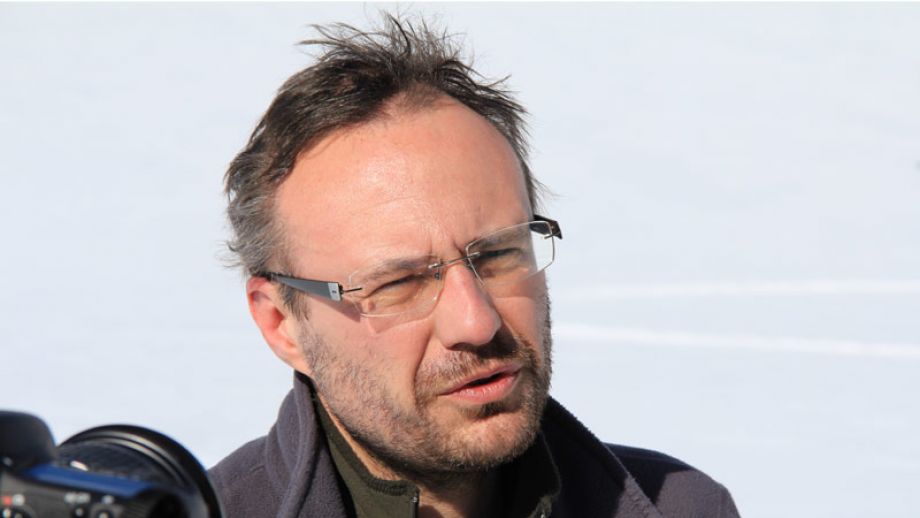 Elie Verleyen: Antarctica Through the Microscope
Former InBev-Baillet Latour laureate Elie Verleyn returned to Antarctica this year to do some work for BELDIVA (Belgian Microbial Diversity Project in Antarctica). Biologists are trying to get a better picture of the microbial diversity in the region and how this diversity might change as the climate warms.
What are your objectives this season with the BELDIVA project?
BELDIVA is a biodiversity project aimed at studying the microorganisms in different habitats in the vicinity of the PEA station. This season we had three main objectives:
Sample the open-top chambers we installed close to PEA and replace data loggers, which have been measuring temperature and humidity since January 2011.
Replace temperature data loggers in water from cryoconite holes near Utsteinen Nunatak.
Sample contemporary microbial communities in lakes and extract sediment cores.
What are open-top chambers and what are you studying with them?
We installed a number of open-top chambers two years ago on areas of exposed rock and soil in different regions around the station. Open top chambers are mini-greenhouses used to experimentally increase the temperature of a small area of the soil in order to mimic future climate warming and see how the microbial communities change in response. During the austral summer, temperatures in these open-top chambers can be up to 5-10°C higher than the surrounding terrain.
Every year we collect the temperature and humidity data loggers, which were placed inside the open top chambers for an entire seasonal cycle, and take samples to be analyzed in the lab back at Ghent University and the University of Liège to see how the microbial communities are being affected by the very localized change in climate.
Zorigto Namsaraev, who had been working on the BELDIVA project in previous years, set up the open top chambers two years ago. How long will you leave them there?
We plan to leave them there for five years at least. Every year we'll take regular samples and see what kind of results we get during the five years the project is running. However the conditions must be good for sampling. For example, when the open top chambers are covered with snow – as was the case with some of them this year – it is impossible to sample microbial biofilms.
We can also leave the open top chambers in place even longer. Whether or not we'll be able to come back regularly to take samples will depend on financing, which comes from BELSPO.
Why did you choose to put the open-top chambers in the places you put them?
The locations were chosen based on their exposure to sun, the kind of gravel or rocks in the area. We chose a number of different environments in the area so we could look at how future climate change affects different kinds of communities of microorganisms.
What are cryoconite holes and why are you studying them?
Another objective was to take samples from cryoconite holes. Cryoconite holes are pockets of liquid water on the top of the ice sheet. These pockets form when a cryoconite (like a stone or other piece of dark detritus that has lower albedo than the ice around it) falls on the ice sheet. As the sun hits the cryoconite and heats it up, it melts the ice around it, and gradually sinks into the ice. Once it gets deep enough, the surface of the water re-freezes, creating a pocket of liquid water.
Why are cryoconite holes interesting?
There are a lot of microorganisms living in the water, some of which may only be found in Antarctica. For example, during the last glacial period, a lot of the currently ice-free areas near the coast were ice-covered. It's possible that some organisms were able to survive the spread of the glaciers in cryoconite holes. This remains to be seen, of course. We need to do more research.
Would you be able to find certain unique species of microorganisms you would not find elsewhere in cryoconites holes?
We were able to take samples from a number of cryoconite holes last season. They will be analyzed together with the samples taken this year using state-of-the-art molecular techniques. This will allow us to assess whether the microbial communities living in cryoconite holes are different from those in lakes or wet soils, for example.
Can you tell us a bit more about the surface lakes you're looking at?
Our goal was to take sediment cores from lakes in the area around PEA. We're interested not only in studying the present-day microorganisms in the sediment samples, but we also want to try to reconstruct local past climates by looking at microfossils and biochemical markers in the sediment cores left by cyannobacteria and other microorganisms. Unfortunately, because the lakes were completely frozen this year due to the high amount of snow, we were not able to take sediment cores from them.
How far back in time can lake sediments in Antarctica take you?
It depends on the lake. We once collected a sediment core from a lake in the Larsemann Hills near Australia's Davis Station which went back 120,000 years before present. But most lakes in Antarctica are less than 10,000 years old, so only back to the beginning of the early part of the Holocene, the warm interglacial period we are currently living in.
Since the coast tends to have more exposed bedrock, one would assume that lakes in Antarctica would be close to the coast.
Yes, most lakes are close to the coast. Near the Japanese station and the Russian Novo Station, which are both close to the coast, there are a number of lakes. In the interior of the continent, lakes are rare, because it's too dry. But last year Zorigto discovered some lakes not far from PEA. These are the lakes we planned to core this year.
When you go out in the field, how do you normally travel? By skidoo?
This year we've only been travelling by skidoo, unlike previous years, when we were travelling by Prinoth tractor because we needed to visit more remote places. We don't have a lot of material to take with us this year, and we don't have to set up a camp in the field, so we have no need for Prinoths this year. We've been taking day trips by skidoo.
How has your experience at the station been so far this year?
It's a nice atmosphere. The last time I was here two years ago there was still a lot of construction work going on, and it was a bit hectic. This year, things are a bit more relaxed, although people are still working very hard all the time on other things to make our work possible.
The nice thing about being able to do all our research by day trips this season is that we can come back to the station in the evening and have a nice, hot meal! We get first-class treatment at PEA!
I've been to several stations before, and it's nice to see that everyone at PEA are very supportive of the scientific work we're doing.
Picture: Elie Verleyen - © International Polar Foundation