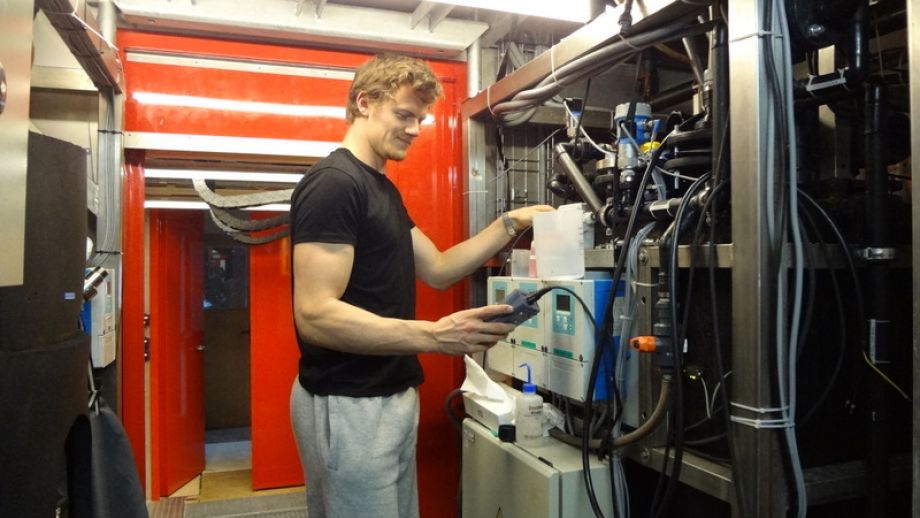 Fresh Water for Everyone
After landing in Utsteinen, the team took three days to free the snow melter, a crucial unit. Talking with Jacob Bossaer, a chemical engineer and a new member to the BELARE team in Antarctica, we gained more insight into the functioning of the Princess Elisabeth Station's water treatment system.
After clearing the snow, the team set the snow melter to work. 1,400 liters of water were first melted from snow, used in kitchen and bathroom to ultimately end up in the bioreactor.
Before start-up, a concentrated sludge of bacteria was added, and after approximately one week and a half, the bacteria are multiplied enough for advanced water treatment, resulting in a higher waste water throughput, hence increased capacity. If the bacteria grow too well, the excess is removed and frozen in order to be shipped to Belgium.
The fresh water produced with the snow melter is normally suited for drinking, but the team first tests it and adds minerals before dispatching it to the kitchen and the bathroom. After the first use, the water is sent back to the bioreactor to be cleaned by the bacteria, which feed upon what we call dirt.
Although perfectly suited for human consumption, the cleaned water then goes to the kitchen's dishwasher, the showers, or the toilets. Any excess water will be cleaned to a drinkable level before being disposed of in a cleft by the ridge. All in all, every liter of water is used a minimum of two times before being disposed of, with no impact on the surrounding nature.
Picture: Jacob Bossaer at work on PEA's water treatment unit - © International Polar Foundation