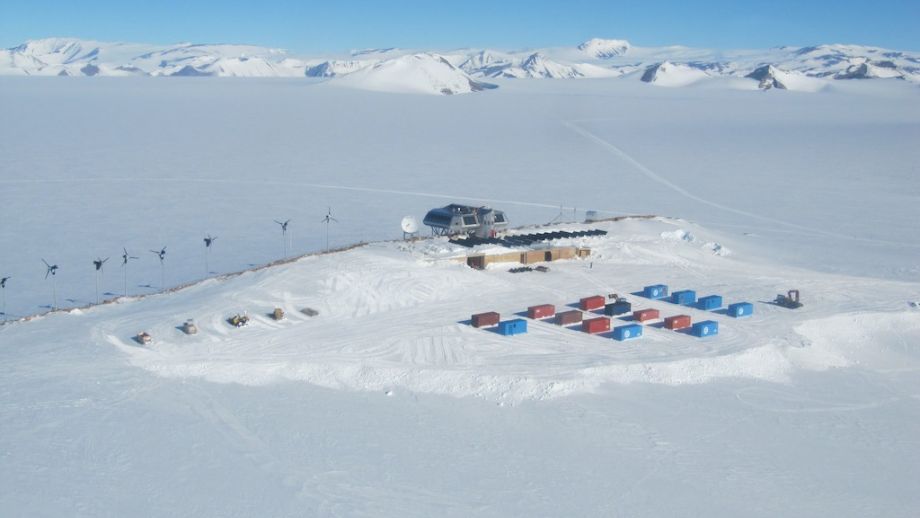 Home Sweet Home
After 5 restless days spent at the coast, both the International Polar Foundation's crew and the cargo of the Mary Arctica were back at the station on Monday, January 9th.
Goods Delivered
Due to the changing weather conditions in Antarctica, the offloading had to be done as swiftly as possible. The team managed to offload everything in less than 20 hours working straight through. Thanks to their diligence, the Mary Arctica was able to reach open water again soon and sail back to Cape Town without any further problems.
The crew then spent one and a half days transporting all the cargo from the sea ice to the top of the ice shelf, some 6 km away. Next up was the construction of an air strip near the coast for the German helicopters and plane, a newly equipped DC3 Basler 6.
Alain Hubert and team could finally rest for a few hours. Unfortunately, their rest had to be short, as bad weather was forecast to return on Monday the 9th, leaving a narrow window for the journey back.
On Sunday evening, a convoy of four Prinoths hauling 14 sledges departed from Crown Bay, carrying equipment for both the station's engineers and the scientists. 24 hours later, they were back at the station after a slight detour due to poor snow conditions. Needless to say, both scientists and engineers were very happy to see them!
What's Next?
Alain and Kristof left early on Tuesday morning to pick up the Japanese researchers, who have been working in the field some 70 km away from the station.
In five days, a convoy will be back at the coast to pick up the remaining cargo. They will also bring equipment to the Alfred Wegener Institute scientific team, which will fly to Crown Bay from the German Neumeyer station. While in Crown Bay, the team will also finish installing the AWI base camp.
Picture: Home Sweet Home - © IPF