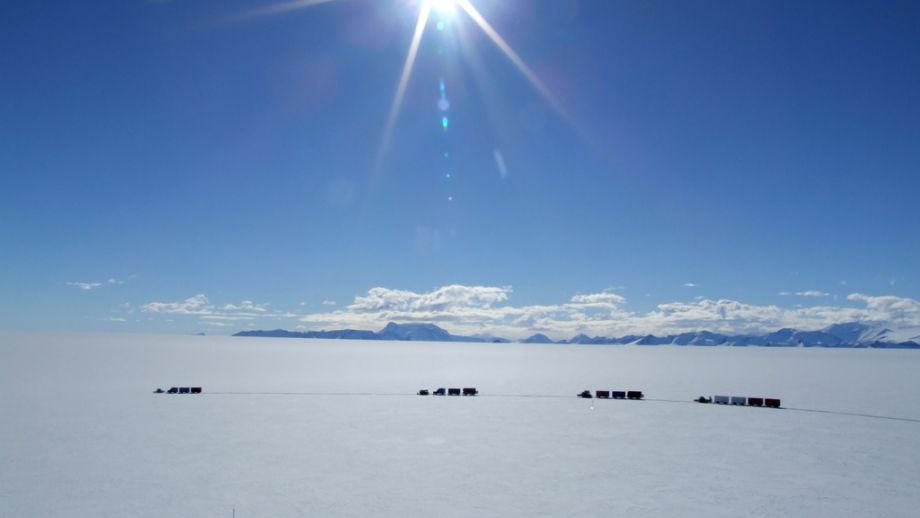 The Mary Arctica Has Arrived: Dashing for the Coast!
At 4:35 AM today, Nighat Amin sent us a very brief email notifying us that the Mary Arctica would finally be able to make it through the pack ice and reach Crown Bay within the next few hours. We could only imagine the cheers at the station as the traverse team scrambled to their Prinoths and headed for the coast.
Dashing for the Coast
Over the course of the last several days, the traverse team at the station was kept on hold, ready to depart for a traverse to the coast with all four Prinoths Tractors standing by to leave at a moment's notice.
At long last they could start their 200 km journey to Crown Bay at a speed of 14km/h. There, the unloading operations will be able to take place in what seems to be good weather conditions; no storm or strong winds are foreseen. Good news all around to start the day!
A Crucial Shipment
For those who have not followed the story closely, the arrival of the Mary Arctica at Crown Bay is crucial in many ways for the rest of the season. The ship contains:
the two helicopters and the plane needed by the German scientists from the Alfred Wegener Institute to conduct their geological surveys;
important pieces of technical equipment needed for the upgrade of the station's systems;
food and equipment for the remainder of the season.
The ship essentially contains New Year's presents for a lot of people, and it will make everyone happy. Scientists will have their gear, engineers their equipment, and the whole team will be able to enjoy fresh food and beer again!
Picture: All Prinoths heading for the coast to meet the Mary Arctica - © International Polar Foundation