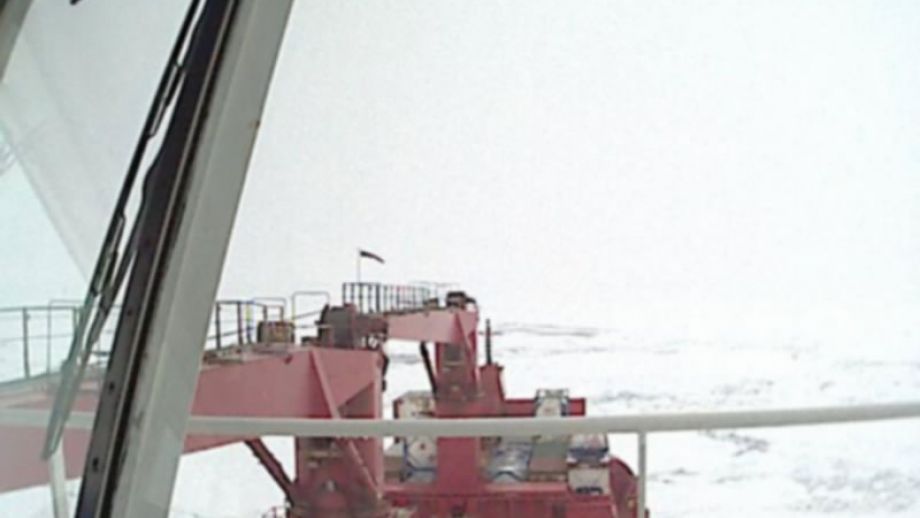 Situation Becomes Critical at PEA
Since our latest news item, things have become worse at PEA. The Mary Arctica, which will re-supply the station and is carrying the two helicopters for the German scientists, is trapped in the ice.
Originally, the offloading was scheduled for December 24th. The operations were delayed once and rescheduled for the 28th.
However, Base Commander Nighat Amin of PEA started to study the satellite maps (and she knows them well), and advised Høgnie Pettersen, the commander of the Mary Arctica, to bypass ice-concentrated areas to the north. No sooner said than done: the Mary Arctica was again making progress and managed to approach Crown Bay (the offloading site for the PEA station). It was on December 26th, and we were ready to leave with a convoy for Crown Bay on the 28th.
But a powerful anticyclone returned. These conditions mean that we can resume work outside. For the ocean, however, this means more ice concentration; the temperatures are lower and water freezes faster.
On December 27th, at 11:36, Pettersen informed Nighat Amin that he had halted his ship to await better ice conditions. The ice class was (and still is today) at about 140km from Crown Bay, at 69°52'14" S and 19°62'77" E.
The consequences of this delay can quickly become catastrophic.
First of all, from here, it seems probable that the ship will not be free for another week. Of course, it does not use extra fuel when it is blocked, which would allow it to stay a little longer in the area before having to return to Cape Town.
What are the potential consequences of this delay?
When we sign a contract with the Norwegian shipping company, an additional delay of 8 days is foreseen in case of inclement weather. After this period, huge additional costs must be paid. At the time of this writing, of the eight days, only three remain.
There is no fresh food left or enough material to continue the work at the station. This means a breach of contract with the Germans who are waiting (with us) not only on their two helicopters, but also on AWI's new tool, the famous Basler 'Polar 6' (a brand-new twin-engine aircraft) equipped with all the latest scientific equipment that everyone talks about in Antarctica!
That's the way it is on this amazing continent: now that the nice weather has returned, we're all ready to continue our work. But the boat carrying what it takes to continue the job hasn't arrived. Whenever a storm rages, we pray for good weather, but now we have the good weather, I find myself praying for a good old storm... Rather frustrating, isn't it?
Picture: The Mary Arctica trapped in the ice - © Royal Arctic Line A/S