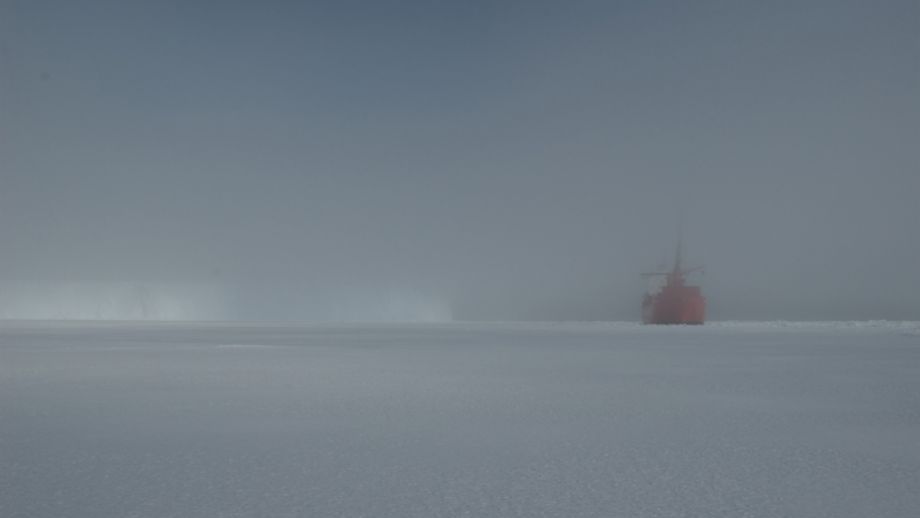 The Mary Arctica Blocked by Ice: a Major Setback
With the arrival of the new IPF team, we learned that the Mary Arctica is trapped in ice more than 400km from its offloading site at Crown Bay. It is not yet a catastrophe, but almost.
In addition to being stopped, the ship also had its steering gear iced up and must return to open waters before their technicians can dive to do the repairs.
On board is not only all the material we need to continue working here, but also machined parts to repair the Japanese sleds that were damaged during their expedition, 70km from here, and the two helicopters needed by the AWI scientists to carry out their operations.
In short, the word "disaster" is already on everyone's lips, and our German friends are considering a request for assistance from one of their icebreakers operating close to the west.
As if this were not enough, we just learned that our 16 boxes of fresh food were left in the fridges of ALCI, the flight operator connecting Cape Town to Novo... It's been three weeks with no fresh food in the fridge at the station, and we're going to spend the next 8 weeks without vegetables!
Before explaining how the situation developed, I would like to explain two or three important things:
First, the Mary Arctica is a ship that we share with the Norwegians for the supply of our bases. This ship was blocked because, unlike the "Polarstern" of our German friends, it is not an icebreaker but what is known in shipping jargon as an "Ice Class" ship. When the ice becomes more than one meter thick, "Ice Class" ships cannot navigate through the ice, while icebreakers can.
This year, the Mary Arctica was not the only ship to be blocked due to extreme ice conditions. On November 11th, the Japanese icebreaker "Shirase" left Tokyo to free an Australian ship stuck in the ice. The Chinese icebreaker "Snow Dragon" was blocked as well in early December, forcing the CHINARE 28 (Chinese National Antarctic Research Expedition) team to offload their equipment by helicopter. But during the helicopter transfers between the boat and the base of Zhongshan, one of their aircrafts crashed on an iceberg. This happened on December 9th at 0:20am after an attempted forced landing, but fortunately, no-one was injured.
DROMLAN is a network that comprises the 11 countries that have at least one station on the 3000km of Atlantic coastline. This network has enabled scientists to come to this part of Antarctica and work for four months instead of two, unlike when all connections were made by boat.
Needless to say, I had some trouble to motivate the team again. They had worked almost 20 hours a day to prepare the convoy that should have welcomed the ship on December 24th!
And for those who do not know how important such a convoy is, it generally consists of 4 tractors, 11 containers, 2 ten-footers as they are called (half a container used as a kitchen and a dining room and the other half with the fuel for the tractors to make it through the 20-hour journey to the coast).
I'll end this update on a more positive note.
First, we learned that the Mary Arctica propeller was repaired and is now able to make some progress northwards. This is thanks to the advice of our Base Commander who is an expert in satellite maps and was able to advise the commander and his crew on the best way forward.
We also found what I would call a consolation prize in one of the planes: two turkeys for our Christmas dinner.
For the first time since 2007, we were all present at the station to celebrate Christmas Eve. The menu prepared by our head chef David: turkey stuffed with pecans / shitake sauce / leeks in red wine and cinnamon / mashed celeriac / dessert: Antarctic granita with Bailey's and an iced chocolate parfait.
It was a nice "ice breaker" dinner. It is a tradition here in Antarctica to organize a dinner where polar scientists meet for the first time.
Picture: The Mary Arctica near the coast of Antarctica - © International Polar Foundation - René Robert