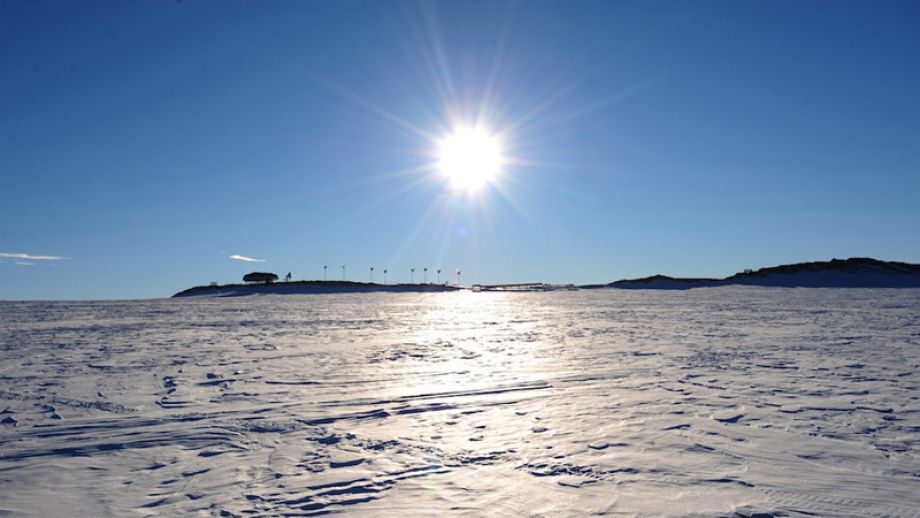 Last Week at Princess Elisabeth
Time flies when you are busy! We have just entered the last week of the 2011-2012 season at Princess Elisabeth. Yet there is still so much to be done before we leave.
Satellite Link
Since nobody is overwintering at Princes Elisabeth, the satellite link is our only way to monitor the station's systems and its scientific equipment remotely. Erik and other members of the technical team are busy testing the link and making sure that everything is in place to be able to connect to the station over the austral winter.
Scientific Instruments and Equipment
Scientists have installed numerous instruments in and around the station. Many of these collect data year-round and transmit them live via the satellite link for analysis. These instruments have to be prepared for the winter and their data connection with the station has to be thoroughly checked.
There is still some work to be done on the mobile field units that the Japanese commissioned us to build for them. These units will be deployed in the field early next season in the framework of a Belgian-Japanese meteorite hunting expedition and we are preparing them now to be ready on time. All vehicles have to be serviced and parked in the garages. It looks like Kristof will have a very busy week (again)!
Speaking of vehicles, we would also like to replace the old bulldozer we brought back from the old Japanese Asuka station. After spending 13 years outside, it has served us well during four consecutive seasons, but has now reached the end of its life.
Station's Systems
After finishing the installation of the new SOLUXTEC experimental solar panels, we need to work on strengthening the structure of the garage roof. With nearly 100 tons of snow accumulating there during the winter, we don't want to take any risks.
We also need to empty the pipes of the water system. The temperature shouldn't drop below zero since we monitor it and can make the heating kick in should the need arise, but we want to be prepared for a worst-case scenario. Bacteria used in the water treatment system will have to be removed, they wouldn't survive the winter without being fed.
The electrical system also has to be switched to winter mode. With no crew around, the energy needs are much lower.
Season Summary
This season, we had 25 scientists from 6 different nationalities working on 13 different projects at Princess Elisabeth or in the vicinity. Direct technical and logistic support to scientists in the field amounted to roughly 2650 man/hours over the course of four months! Not bad for a small team like ours!
Even Antarctica seems to be proud of us. Looking at the weather forecast, it looks like we will be blessed with sunny weather during this last week.
Picture: Sunny weather upon Utsteinen - © International Polar Foundation